The wife of Nigerian President, Dame Patience Jonathan, has commiserated with the Rivers State government, the bereaved families and the survivors of the unfortunate stampede  at the recent PDP Presidential Rally in Port Harcourt.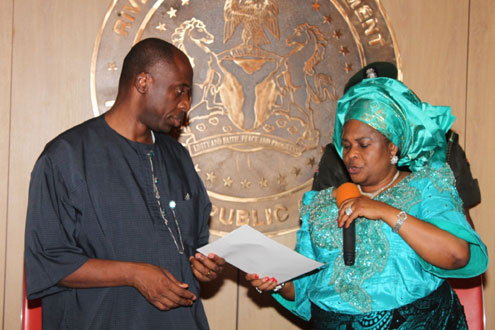 Dame Jonathan, who travelled to the villages of the bereaved families, before arriving Government House, Port Harcourt, where she paid a condolence visit on the Governor Chibuike Rotimi Amaechi, also addressed survivors of the Saturday stampede.
The First Lady of Nigeria said she was touched by the incident that claimed 11 lives out of which 10 were women, who believed in the change initiative, aimed at improving the lot of women in Nigeria.
She described the large turnout of women at the rally to a demonstration of love they have for President Jonathan and Governor Amaechi, noting that the victims of the stampede have paid the price for democracy in Nigeria.
Dame Jonathan, who also delivered a letter of condolence to Governor Amaechi, prayed for quick recovery for the survivors, and urged them not to be deterred by the incident, but to continue to support the PDP, Rivers State Governor and Mr President, who they came to identify with.
The First Lady prayed God to give Governor Amaechi the strength to bear the loss, stressing that the governor has come to deliver Rivers people, and God would help him to deliver the state from the shackles of poverty and under-development.
Dame Jonathan, had earlier visited the families ofthe late Mrs Ucheoma Wokama in Erema, Ogba/Egbema/Ndoni Local Government Area, the late Mrs Caroline Enyindia, Ubima, in Ikwerre LGA, L
The late Mr Felix Nwiaga, Leader of Tai Legislative Assembly at Botem Tai, Mrs Fanny Micah, at Niger Street in Port Harcourt, where she sympathised with the families they left behind.
She assured them that the state and Federal Government would see how to support the bereaved families while regretting that those that died left at a time when they were mostly needed to actualise the principle of one man one vote in the election process in the country.
The First lady noted that their death would never be in vain because those left behind at home and in the PDP family, would continue to celebrate them as worthy comrades.
Responding, Governor Chibuike Rotimi Amaechi thanked the First Lady for the visit and the message that she brought to the bereaved families and to the state.
Governor Amaechi promised that the state government would pick up take the medical bills of the survivors and advised them to put their trust in God, emphasising that the victims of the incident were strong supporters of the party.
He  expressed the hope that this type of incident would not occur  again and emplored the security agents to learn how to control crowd in such events.
Copyright protected by Digiprove © 2011 P.M.News