At least 65 dead and fears death toll could rise to 300 as New Zealand is rocked by huge earthquake, Daily Mail reports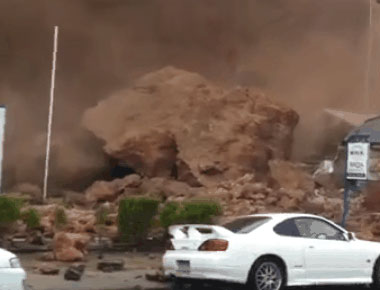 At least 300 people are feared dead after a major earthquake brought down buildings in the centre of Christchurch, New Zealand, during the busy lunchtime today.
The official death toll so far stands at 65, but emergency officials have said that the figures could be much higher.
'It is a just a scene of utter devastation,' said Prime Minister John Key.
'This may be New Zealand's darkest day.'
"There will be deaths, there will be a lot of injuries, there will be a lot of heart break in this city," said Christchurch Mayor Bob Parker.
If the estimates become fact, it will be the country's worst natural disaster since a 1931 quake hit the North Island city of Napier killing 256 people.
Local residents, office workers and tourists from around the world are among the casualties who have either been killed or seriously injured as buildings crashed down.
As the first evidence came of bodies being removed from wrecked buildings, police confirmed that there had been 'multiple deaths' .
Even the iconic cathedral, in the city centre, was not spared as its steeple toppled down wrecking a large part of the church.
"It is huge. We just don't know if there are people under this rubble," said a priest, standing outside the ruins of the Cathedral.
A Melbourne surgeon visiting the city said he had seen major destruction all around, made worse by a strong aftershock.
"I fear there are going to be fatalities everywhere including at the cathedral in the centre where the steeple has come down bringing a large part of the building with it.'
The city square, where the cathedral stands, is a popular place for office workers enjoying their lunch break.
Although the 6.3 earthquake was not as powerful as 7.1 quake that struck Christchurch last September, the damage was far more severe because it was much more shallow.
This earthquake struck around 4km below the surface whereas last year's event hit 10km deep.
A number of hotels in the centre of Christchurch were extensively damaged and several hours later it was feared many people were lying trapped or dead inside the wreckage.
Buildings burned, broken water mains gushed and sirens wailed in scenes reminiscent of a war zone.
Earthquakes in New Zealand are extremely common, with more than 14,000 a year being recorded.
The frequency comes from its location on the notorious Pacific 'ring Of fire', an arc of volatile earthquake and volcanic zones that stretches from Chile through Alaska and down through the South Pacific.
Of the thousands of earthquakes every year, only about 150 are felt by residents, with around 20 topping magnitude 5.0, though fewer than 10 do any damage.
However, the country has a long history of hugely destructive earthquakes, many more powerful than this 6.3 event, including the 7.1 quake that struck Christchurch last September
The biggest recorded quake in the country's history came on 23January, 1855, when Wairarapa was the epicentre of a massive 8.3 disaster.
But the most lethal occurred at Hawke's Bay on 3 February , 1931, resulting in the largest loss of life, with 256 deaths, and the most extensive damage in the country's recorded history.
Unfortunately for the population, earthquakes have been all too common in the last decade.
Since a 7.2 magnitude quake at Fiordland in August 2003, there have been six more major events, discounting aftershocks which can often be equally as powerful – ranging from 5.4 to the largest in immediate history, a 7.8 quake at Dusky Sound on 15 July, 2009, the country's biggest for nearly 80 years.
The proximity of the current and 2010 earthquake echoes two hugely destructive quakes that hit in quick succession in 1942 when Wairarapa was hit by a 7.2 scale event on June 24 and again by a 7.0 quake on August 2. There were also two significant quakes very close together in 1990.
Source: www.geonet.org.nz