With mass protests by pro-democracy demonstrators sweeping across Libya, the 42-year old regime of Colonel Moamar Gadaffi yesterday started crumbling.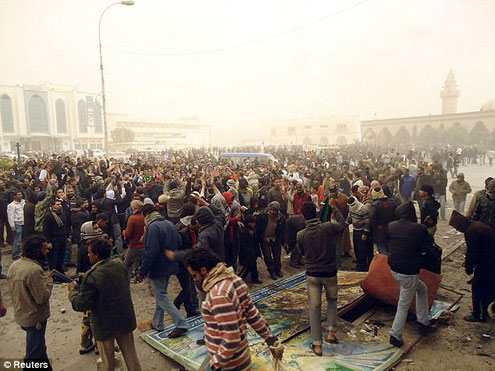 Protesters trooped to the streets of Tripoli, the Libyan capital, and Benghazi, the second largest city. They are demanding an end to the 42 years of Gadaffi rule which had brought harsh economic situation and high rate of unemployment.
Reports from Tripoli said the government's warplanes and helicopters were killing people. Forces loyal to Gadaffi mounted a salvage assault on the protesters on a bid to save the regime from falling. Witnesses claimed that demonstrators were shot from the air or massacred by mobs of mercenaries from other African countries.
One protester, Adel Mohammed Saleh told Al Jezeera TV: "What we are witnessing today is unimaginable. Warplanes and helicopters are indiscriminately bombing one area after another. Many people have been killed. Every 20 minutes they are bombing. Anyone who moves could be killed, even when you are in your car."
There are strong indications that the Gadaffi regime is on the brink of collapse as ministers, senior diplomats and local leaders have united in support of the protesters.
Also, a large section of the army was reported to have turned against Gadaffi and was fighting forces loyal to him outside Tripoli.
In a face saving efforts, Gadaffi militia drove through the streets with loudspeakers, ordering people not to leave their homes.
According to a witness, hired thugs arrived in a fleet of pickup trucks as demonstrators confront riot police who opened fire on the crowd after shooting into the air. The people were running helter-skelter.
Another pro-government armed gang was said to have shot protesters planning a march and also fired people weeping over the bodies.
A resident of Tripoli said: "It is a very violent situation." While another said: "But we know the regime is reaching its end and Libyans are not retreating. People have a strong determination after all that had happened."
Doctors in the city of Benghazi said about 300 people had been killed with their bodies badly mutilated. Hundreds of people have been killed within the seven days of the protests. Yesterday's escalation of the violence increased the death toll. But experts believe Gadaffi's days are numbered.
As the killings of the protesters continued, Gadaffi's supporters have started deserting him in droves. His justice minister resigned in protest of "excessive use of force against unarmed protesters."
Also, his ambassador to India and envoy to Arab league as well as Libyan mission members at the UN and diplomats in many other countries have called it quits with the regime.
The Arab League envoy, Abdel Monem Al-Howni accused Gadaffi of genocide, saying: "Gadaffi's regime is now in the trash of history because he betrayed his nation and his people." Two airforce cheifsalso defected after he refued to bomb protesters.
Leaders of Libya's most powerful tribes, the al-Warfalla and the al-Zuwayya also turned against Gadaffi. The Libyan leader had succeeded over the years by placing the groups against one another in a society where the people are split along tribal lines.
UN Secretary-General, Ban Ki-Moon told Gadaffi early today that he was "outraged" at reports of aircraft attacking civilians.
Meanwhile, the uprisings in the Arab world which have toppled two long serving presidents in Egypt and Tunisia, have inspired Cameroonian youths who have launched a facebook page to end the 29-year-old rule of President Paul Biya.
The facebook page, called "Banaba Cameroon or enough is enough Cameroon," was launched at the weekend. It announced a peaceful demonstration tomorrow in Yaounde, the Cameroonian capital.
The facebook page refers to President Biya as a tyrant who can only be removed by force.
It said: "There will be collateral damage, but we must underrstand that a three decades like Biya tyrant will never give up power without being persuaded of his defeat.And that is what this is all about.So the police and gendarme headquarters must be legitimate targets of these manifestations."
The facebook page also advised demonstrators to carry a Cameroonian flag to the rally, adding that it is a sign of patriotism.
"It demonstrates that you love your country and will do whatever it takes to save and free it. It shows that while you protest this tyrannical system, you love your country," the facebook page said.