There was a fierce gun battle today between policemen and thugs suspected to be members of the National Union of Road Transport Workers, NURTW, in Ibadan, the Oyo State capital, Southwest Nigeria.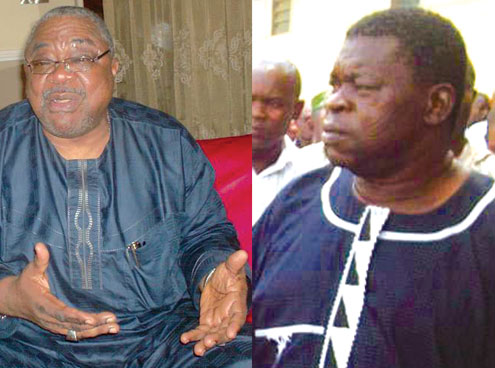 Fighting broke out when the state governor, Adebayo Alao-Akala flagged off his governorship campaign in Oyo town and deployed heavily armed policemen with armoured personnel carriers , APC, to demolish the Oyo State secretariat of NURTW situated at Olomi Area of Ibadan.
Hell was let loose when the armed policemen and NURTW members said to be loyalists of erstwhile chairman of the union in the state, Lateef Akinsola a.k.a. Tokyo, engaged in gun duel.
The clash which started around 9a.m. at Olomi Area spread to other parts of Ibadan like Expressway, Muslim, etc. The expressway that links Lagos was blocked during the rampage.
The crisis allegedly led to the loss of lives and property but the actual figure could not be ascertained at the time of filing this report.
P.M.NEWS saw several vehicles including trailers being burnt. Hoodlums hijacked vehicles from their owners and set them ablaze.
Residents fled in all directions during the ensuing melee to avoid being caught in the cross-fire. Activities in parts of the city were completely paralysed. Oluyoro hospital also closed its gate to patients
Bonfires were made on the roads as hoodlums armed with guns and dangerous weapons took over the major streets. They shot indiscriminately. They went after residents who took to their heels. Some people ran into mosques and churches for refuge.
Parents rushed to various schools to bring their children home. Travellers to and from Lagos were stranded as they could not pass through the blocked expressway. The traffic jam caused by the crisis  stretched to Iwo-Tollgate expressway.
Most residents who were very nice opened the doors of their houses for people to run into and take refuge so as to avoid being killed.
As at the time of filing this report, the demolition squad had been dislodged by the hoodlums at the NURTW secretariat.
However, there was a serious apprehension in the entire of Ibadan as people are confused about where to go and where to avoid. People were cursing Akala and praying to God to ensure that he does not win the forthcoming election.
They called on the Inspector General of Police, Hafiz Ringim and President Jonathan Goodluck to intervene by preventing Akala from killing the people of Ibadan.
Governor Akala had claimed that the NURTW had been proscribed in the state and vowed to demolish their secretariat after he fell out with Tokyo.
The crisis between  Tokyo's faction of the union and that of the late Eleweomo which is backed by  Akala simmered until Eleweomo was killed in December last year.
—Gbenro Adeshina/Ibadan