The former Governor of Lagos State, Asiwaju Bola Tinubu, had debunked the rumour making rounds that he forced his wife, Oluremi, to join politics, saying it was purely her decision.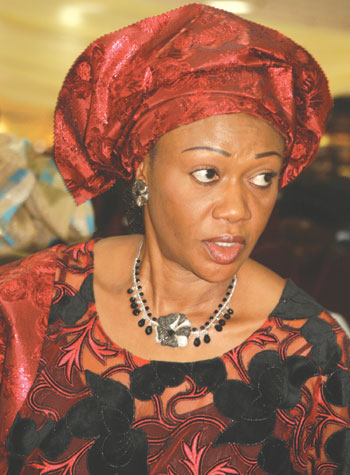 Tinubu, who spoke in at a stakeholders' meeting in Lagos yesterday said it was Oluremi who told him that she wanted to join politics, saying that he initially refused because of the type of politics being played in Nigeria.
He said he told Oluremi that politics was not for people like her because of the insult she would get while on the field, adding that he did not take her serious at first, but when she told him she was serious about it, he had no choice than to let her.
The former governor recalled that during the Abacha regime, he, his wife and her daughter suffered a lot, noting that the house where Oluremi and her daughter were staying was almost set ablaze.
According to him, it was the intervention of the late Dr. Beko Ransome-Kuti that rescued them and procured visas for them to leave the country, adding, "Remi convinced me that she wants to go into politics and I accepted."
Tinubu also spoke on why the Action Party of Nigeria (ACN's) alliance with some parties failed, alleging that it was discovered that the People's Democratic Party (PDP) paid some people to frustrate the party's effort because it knew that if the alliance should work, the PDP would be swept out of office.
He further said that it was not the business of the governor to appoint commissioners into his cabinet but the sole responsibility of the party because many trusted people were on the campaign field with the governor.
According to him, if it were to be Fashola and Co., the governor would have had the power to choose whoever he wanted to appoint.
On the striking doctors in Lagos State, the former governor called on Governor Babatunde Fashola to sack them.
He noted that the doctors' action was motivated by politics and championed by the opposition party, saying there was no need dialoguing with them again but their sack should be the next option.
On calls to reinstate the former President, Medical Guild, Dr. Ibrahim Olaifa, Tinubu disclosed that Olaifa was employed during his administration based on the recommendation of the former governor of Oyo State, Lam Adesina, adding that he would not condone him violating the rules of his employment.
"Those people make me angry, there is no point dialoguing with them again, sack them and recruit other doctors. We have provided conducive environment for them to work and yet they are still not satisfied.
"It is not compulsory you work for the state government; if you are not comfortable, you can go to the Federal Government that pays more or other private establishments; we are not going to reinstate him (Olaifa) because the moment you subject the authority given by the constitution to blackmail, you are finished."
—Kazeem Ugbodaga