The Yoruba Movie and Film Marketers/Producers Association of Nigeria (YOMVIPAN), has declared war on movie pirates who have been feasting on the intellectual property of artistes in the country for many years now.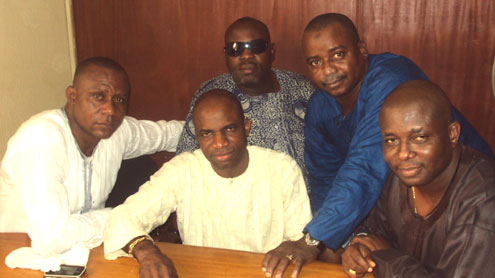 Even though piracy is a global phenomenon, the association seems to have taken the bull by the horn by fighting the scourge in a way that has never been done before. With the support of the Lagos State Film and Video Censors Board (LSFVCB), Nigerian Copyrights Commission and other related bodies, YOMVIPAN's anti-piracy squad has not given the notorious pirates a breathing space for some months now.
Since the association made its intention to fight piracy to the barest minimum known, it has arrested hundreds of pirates, while millions of pirated movies have been confiscated within a short period of time.
NollywoodReel gathered that few weeks ago, the leadership of the film marketers' association had a meeting with one of the leaders of Oodua People's Congress (OPC), Otunba Gani Adams, over the issue of piracy.
According to Mr. Femi Jolayemi, Chairman of the association's Planning/Organising Committee, "we decided to work with him because he is an icon of the Yoruba heritage and his support will go a long way in giving piracy a good fight. He is actually doing some endorsements for  us in that regard."
YOMVIPAN has therefore urged Nigerians to ignore Yoruba movies packaged in DVD collections as pirates have been making brisk business with the sale of DVDs that contain a collection of Yoruba movies, most of which are new releases, a trend the association said must stop now.
The marketers are quite aware of the fact that the pirate kingpins are in Alaba Market and in the words of Jolayemi, "we are battle ready to bring all of them to book, irrespective of how influential they are."
The YOMVIPAN anti-piracy squad has already raided Alaba Martket twice this year, while the LSFVCB on its own, has been raiding pirates in other parts of Lagos like Oshodi and Isolo.
"The truth of the matter is that this is going to be a continued exercise. We are still strategising and will re-visit these markets soon. Besides, in a couple of weeks, the campaign will be taken to other states where Yoruba movies are sold," added Jolayemi.
National President of the association, Chief Femi Odunuga of Gemini Films and Marketing, said "we have held meetings with government law enforcement agencies and they are solidly behind us to achieve  this dream of cleansing the industry of destroyers called pirates."
Meanwhile, in a bid to give the industry a total re-branding, YOMVIPAN has also reviewed its relationship with DSTV's Africa Magic and other satellite stations showing Yoruba movies.
Chairman, Airing Right Committee of the association, Alhaji Akeem Balogun, noted that gone are the days that satellite stations will have the franchise to show movies that are released within a spate of few months.
"We have decided that no station will be allowed to show any movie released within one year and we are also reviewing the fees too. Yoruba movies are the pride of Nollywood now, so we will do everything to maintain that feat," the Olasco Films boss noted.
On Wednesday, 2 February this year, the anti-piracy squad arrested 11 suspected pirates at their printing factory at 3, Shonibare Street, off Osolo Way, Isolo, Lagos and during the raid, millions of pirated films were recovered and confiscated.
Copyright protected by Digiprove © 2011 P.M.News