In a bid to ensure that the fire of highlife music is kept aglow, a group of the  music genre's enthusiasts and musicians, Hi-Life All Stars Club of Nigeria, is set to encourage younger generation of musicians.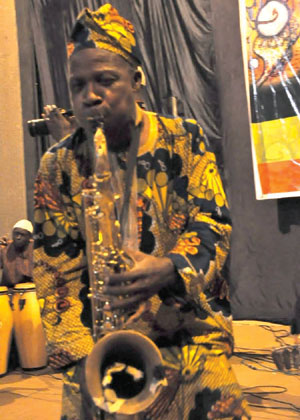 The step was taken recently during the hosting by the club of the 80th birthday of the doyen of highlife music in Nigeria, Dr. Victor Abimbola Olaiya (OON), when young musicians including Yinka Davies, Latoya Ekemode, the American wife of legendary Orlando Julius and No More Loss, among others, were put on stage to jam with Pa Fatai Rolling Dollar, Orlando Julius, Tee Mac, Dejumo Lewis, Anjola Aboderin and others.
They rendered what seemed the longest birthday song in recent times.
And during its monthly meeting last Sunday at Stadium Hotel, Surulere, Lagos, the club resolved to repeat the feat as well as replicate what happened in Ghana when the likes of Hugh Masekela and Mac Tontoh of Osibisa fame, teamed up with young Ghanaian musicians to produce a superlative highlife album, noting that if that can be done here in Nigeria, it will go a long way in further promoting highlife music among the youths of the country.
Notable musicians including Dr. Victor Olaiya, Orlando Julius Ekemode, Alaba Pedro, Anjola Aboderin, Sir Victor Uwaifo, Pa Fatai Rolling Dollar and Bidoun Batik, among others as well as highlife music enthusiasts such as Om'oba Bambo Ademiluyi, Dejumo Lewis of Village Headmaster fame, the CEO of Evergreen Music Company, Femi Eso, his daughter, Yemisi, Ifechi Okoh and Chief Akinloye Adelusi, to mention a few, are members of the club founded late in 2009.
Meanwhile, the club is set to celebrate one of its founding members, ace saxophonist and music impresario, Eji Oyewole, who clocked 70 years last Saturday. The event is slated for Victor Olaiya's Stadium Hotel on Sunday, 6 March, 2011.
Also, a prominent member of the club, Orlando Julius a.k.a. OJ, is expected to go down memory lane by rendering his tunes from independence to date as the Afro-Hi crooner will tomorrow, Saturday, 26 February, thrill lovers of contemporary African music at the Dance for Peace Concert, taking place at Bogubiri, 9, Maitama Sule Street, Ikoyi, Lagos.
The show, which promises to be spectacular, starts from 7 p.m.
—Kayode Aponmade