Award-winning music producer, Sossick, has unveiled Maheeda as the first music act on his Classic Tunes Records label.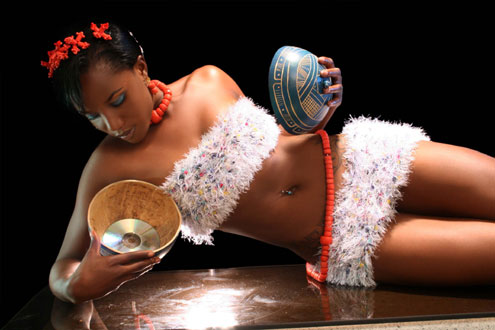 Born Caroline Sam, Maheeda has hit the air waves with a single, Oko Yanpia and there is plan to release the complete album in August.
The beautiful hip hop/ R&B singer already has three videos to her credit. They are Dutty Wine, Can't Wait and My Music, which got her a Nigerian Music Video Awards (NMVA) nomination as the Best Raggae Category last year.
Born 22 November in the 1980s, Maheeda, who hails from Edo State, Southsouth Nigeria, started singing at an early age and grew up with the passion of becoming a career music artiste.
She started professional music six years ago and has so far recorded more than 40 songs.
Speaking with P.M. Entertainment on why he signed Maheeda as the first major artiste on his label, Sossick, who also produced the late Dagrin's album, said he believes she can give other popular acts in the country a run for their money.
"She is simply unique and I'm very optimistic that she has all the potential to be a big fish in the highly competitive music industry. That is why we are giving her the necessary backing to achieve her long nurtured dream," Sossick said.
—Bayo Adetu