Popular music video director, Clarence Abiodun Peters, speaks with P.M Entertainment about the industry, challenges and other issues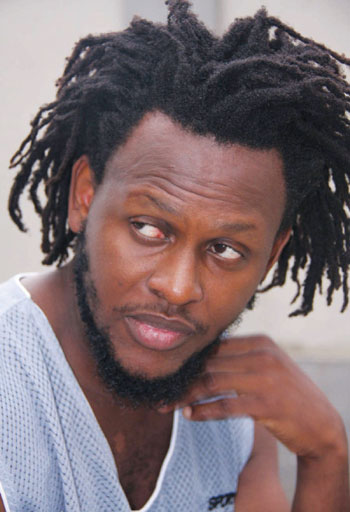 Do you have a New Year resolution?
Yes, to have a chairman. Virtually everybody in the industry has a chairman supporting him financially. So, I'm looking for one too. On a more serious note, I intend to expand this year, find some balance for a comfortable area within the business. In few years I will turn 30, and don't want to clock that age and still be hustling. I will like to strike a balance between my family and business, so I can have time to start achieving things artistically. I also want to expand my business beyond the industry.
So do we see you settling down soon?
Well, no comment.
So which family are you referring to?
My family, everybody has a family. People I work with are part of my family, but then I have my mother and brothers who are the first.
What about your father, Sir Shina Peters?
My father can take care of himself, he is a big boy.
But that doesn't mean you can't extend your hands to him?
Of course, what I'm trying to say is that he is richer than me. So he is the one that needs to cater for me.
What are you working on now?
I just did some videos for Bracket, Waje, Omawunmi and some other artistes in South Africa. But   I will be in Brazil soon for a photo shoot with a Croatian company. I'm into photography as well now.
Recently Akin Alabi too delved into photography. Is that the new thing among video directors now?
It is the invention of the 7D. It joins still photography and motion photography together; just a click on a button then you can achieve either of the two. It has enhanced some people's photography and has also made some people lazy. So it depends on who the person is.
How do you see yourself as that little son of actress Clarion Chukwurah being one of the big players in the entertainment industry today?
It is transition. I'm still a child artistically. It is fun and you enjoy the job when you are still a child artistically. Of course, you will mature and understand the game better, but I try no to be rigid. I have always taken influence from a lot of things like still photography. That is why in the last couple of years, I have studied the works of still photographers. I have kept an eye on the lighting styles of people like Elechi Amadi. As an individual, obviously you need to grow, and the more you grow, the more you acquire responsibilities. And the more you take care of the responsibilities, the more others come. It is like working in the bank. You might be given a target of N500 million, and when you take care of it, you can be given N1 billion. That is how responsibilities are. It is one of the factors that have made me grow, but primarily, it is God's guidance. God has done a lot for me because I believe I'm less privileged than other directors.
…In what way?
Some directors are privileged to have more resources than the others by connecting people that can help them acquire better equipment. All the equipment I have acquired are things that I worked for. The only thing I didn't work for was my education which was taken care of by my mother. I didn't have any hand-out to work with. Some people first worked with outfits like Soundcity before delving into video directing. Some people think that going to film schools is all it takes. Film schools teach you how to survive in an ideal environment, not how to survive in Nigeria. As a matter of fact, you will go to a film school and still have yourself to blame because of the Nigerian factors.
What influence did your showbiz background have on you, considering the status of your parents?
I will say it is a kind of bonus being able to be between these people. I am still young, but I have a vast knowledge about this industry. That is why when I talk to people, they think that I am older than I am. I have seen things come and go. There is nothing that is happening now that I have not witnessed before. As a matter of fact, we don't know how to rock the entertainment industry the way it was done in the 70s and 80s.
But artistes are making more money than those who rocked the industry then?
That is not true. Except for those that are getting endorsement deals from telecommunication companies now, I don't think this generation of Nigerian artistes is making more money. In the 80s I know how much my dad raked from album sales and other deals that he got. The industry was more structured then than now. A lot of today's artistes over hype their financial status, but we know those that are really rich.
What difference do you see between Nigerian music videos and those produced in other countries?
Nigerian videos are improving by the day as well, but there is still a wide margin between them and the American ones. A lot of things are not in place in our music industry and it is a pity that we don't even have bodies that can address the situation. But above all, I think the foreign videos are better in terms of equipment and environment, which we struggle to get here.
You said we don't have bodies addressing issues affecting the industry. What is the role of PMAN?
You see, that is another topic entirely. I don't know the meaning of a PMAN that doesn't have the likes of Tuface, D'banj, P-Square, Sound Sultan, MI, Bracket and all that. And you tell me they oversee the affairs of the musicians? If these people I mentioned are not there, then I wonder what is happenning.
—Bayo Adetu