The Action Congress of Nigeria (ACN) Governorship candidate,Dr Abiye Sekibo has taken his quest to  dislodge  Governor Chibuike Amaechi from the Government House of Rivers State in the forthcoming April elections  to God, with with the formal dedication of its campaigns at the Wesley Methodist Cathedral, Harbour Road in Port Harcourt.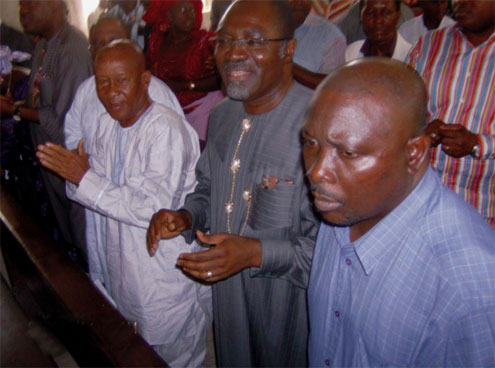 "We believe that until we bring our campaigns to the house of God, what we are doing will be in vain.", declared Sekibo, a knight of the Methodist Church of Nigeria.
"My Lord Jesus explicitly instructs that whatever we do here on earth should be done decently and in order.  This shall be our guiding philosophy.  We go into this race holding no other than our Lord Jesus Christ. I pledge that if the Lord cannot make me governor, I shall not be governor.  If it requires the shedding of blood, God should not let me be governor.  But we have a strong faith in Him that come April, we shall be vindicated and He shall crown us with His glory" Dr. Sekibo declared, after  which he took the Holy Communion.
The incumbent, Rotimi Amaechi had similarly begun his campaign for re-election in the Church, seeking God's help.
Rev. Samuel Ipole, who preached at Wesley Methodist Cathedral agreed with the two candidates: God is the only source of  source of genuine help. But observers wonder who out of the two candidates will eventually succeed in this battle for the favour of God.
The Presbyter in charge of the Port Harcourt circuit of the Methodist Church, Rev. G. Esio stated that although the Methodist Church was non partisan, it had a responsibility to encourage members and even clergies who aspire for elective offices.
"Do not engage in a do-or-die type of politics and do not quarrel with your fellow brethren because he or she is your political opponent.  Allow the will of God to prevail in the game," he charged.
Present at the service with the ACN's flag bearer, Dr. Abiye Sekibo were his deputy, Hon. Serekara Wifa and a horde of party chiefs including the candidates for  the state and national assembly elections.
The ACN had  accused Governor Amaechi of using state power  to frustrate the party from campaigning by directing Obia/Akpor local Government council to seal its campaign office in the guise tax debt.
The Governor however denied the allegation and offered to use his personal salary to help pay off the tax  owed by the  ACN landlord.
By Okafor Ofiebor/Port Harcourt
Copyright protected by Digiprove © 2011 P.M.News