The Economic and Financial Crimes Commission, EFCC, which recently secured a forfeiture order against Chief Lucky Igbinedion, former Governor of Edo state, has sealed off two choice properties belonging to the embattled former Governor situated in the nation's capital city of Abuja.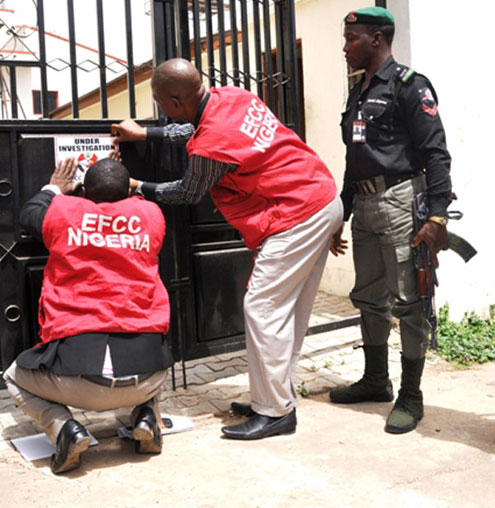 Justice Mohammed Idris of a Federal High court sitting in Lagos had granted the order authorizing the anti graft agency to confiscate eleven properties belonging to the former Governor against whom fresh corruption charges were instituted by the commission.
The properties are spread across the Edo state capital city; Benin, Lagos, Abuja and London. The seizure exercise which was carried out on Tuesday in Abuja, saw the sealing of the former governor's palatial mansions at No. 7, Justice Fatai Williams street in the high brow Asokoro District of Abuja and No 5,  Danube Crescent in Maitama District, another high brow area in the Federal Capital city. The exercise is expected to cover the other cities in the days ahead.
The EFCC team comprising of operatives from the Assets Forfeiture Unit of the Commission, met with occupants of the two properties located in Abuja . At the Asokoro mansion, Mr. Joshua Abongeriouyi and Felix Bassey, who identified themselves as cook and security man respectively to the ex-governor confirmed that the property is owned by the former governor. The two aides along with a young lady who refused to identify herself but simply said she is the former governor's cousin however refused to receive the court order from the EFCC team. At the Danube street property in Maitama, the only occupant who refused to reveal his name told the EFCC team that he did not know the owner of the property.
Igbinedion and six others are facing a fresh 66 counts charge bordering on money laundering and mismanagement of public funds amounting to about 3.2 billion Naira.The other accused persons are Patrick Eboigbodin; Michael Igbinedion and four firms: Gava Corporation Limited; Romrig Nigeria Limited, PML Securities Limited and PML( Nigeria) Limited.
In line with the forfeiture order, the confiscated assets are: a block of  four flats at No 43 Etete Road, Benin City; a property housing Chicken Republic along Sapele Road, Benin City; a property at No 3 Boundary Road, Benin City; a building at No 20B Estate Road, Benin City; a building along Ugbor Police Station Road, Benin City; a mansion at Asokoro, Abuja; a mighty house at neighbourhood of Etete and Ugbor , Benin  City; Sheraton Hotel at Government House Road, Benin City; a property at No 55C Adebisi Omotola Close, off Samuel Adedoyin Street, Victoria Island, Lagos, a property at No 5 Danube Crescent ,Maitama ,Abuja and a house at No 29, Sheldon Avenue ,Highgate, London.
By Nnamdi Felix / Abuja