The Action Congress of Nigeria (ACN) governorship candidate in Rivers State, Dr Abiye Sekibo, today, in Port Harcourt, unveiled his manifesto at the Civic Centre, in the state capital, where he promised free education from nursery to secondary school levels and create Rivers State Oil Mineral Producing Commission that would manage the 13 percent derivation fund.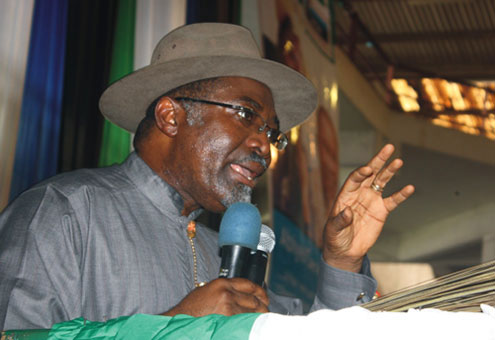 He further promised to return the lands he said Governor Chibuike Amaechi confiscated from people and paid them pittance as compensation in his urban renewal programme and Greater Port Harcourt Development Programme that cut across some local governments contiguous to the state capital.
Dr Sekibo also said that he will start door-to-door campaigns for the April governorship elections on Thursday, March 10, 2011 at 10 O'clock in the morning at Bori, the traditional headquarters of Khana Local Government Area.
He criticised Governor Amaechi's  style of administration whereby power is centred in government house as if the governor is a sole administrator.
He said he would not comment on the offer of the governor to pay off the tenement rate the landlord of the ACN campaign office is owing the Obio/Akpor Local Government that led to its closure because it would be contempt of court.
He, however, thanked Governor Amaechi for allowing the party use the Civic Centre ,Port Harcourt, to launch his manifesto without hindrance.
The unveiling of the manifesto sets the stage for the party's public campaigns in the state, and the party's quest to oust the ruling Peoples Democratic Party (PDP) from the seat of power in the state, the Brick House.
Also, a statement by the party, signed by Jerry Needam,the Director of Publicity and Communications of the party called on  all leaders, candidates and aspirants of the party for the forthcoming elections  to mobilise their supporters for this crucial event to which also members of the ACN, well wishers and the general public are  invited.
He said the ACN has offered the most viable opposition to the ruling PDP in the state and poised to topple Gov Rotimi Amaechi's government at the April polls.
The party also promises to run an all-inclusive government in the state if voted into office, while assuring Rivers people that the huge allocations that accrue to the state will be judiciously utilised to ensure a better life for all.
He said the Rivers State Chapter of the Action Congress of Nigeria (ACN) has commenced screening of its chairmanship and councillorship aspirants for the forthcoming local government elections in the state.
The exercise holds at the state party secretariat, No 1 Isaac Boro Street, Old GRA, and Port Harcourt.
All aspirants of the party were advised to collect, complete and return all nomination forms to the state secretariat and present themselves for the screening in accordance with the guidelines of the party.
By  Okafor Ofiebor/Port Harcourt
Copyright protected by Digiprove © 2011 P.M.News