A fake herbalist, Sunday Oseme, a.k.a. Dr. Ahmed, 56 who specialises in duping unsuspecting ladies, prostitutes and married women desperately in need of a child has been arrested by the police in Lagos, Southwest Nigeria.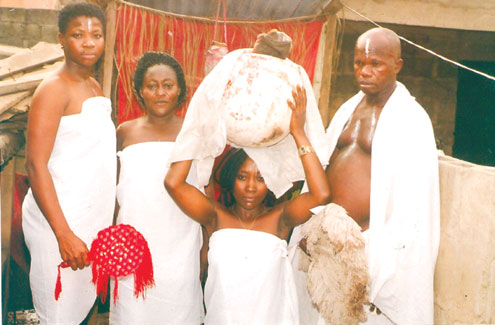 His mode of operation is to take his victims to a flowing stream for cleansing and ritual sacrifice under the pretence of exorcising the evil spirits and mammy water spirit responsible for their plight.
After the cleansing, the victims are made to pay huge sums of money to achieve their desires.
He was arrested by the police following a complaint lodged by two ladies, Esther Inyang and Patience Edet who alleged that the herbalist defrauded them of N253,000 and N350,000, respectively at his shrine located on 29, Lagos Road, Ogoloto Bus Stop, Ikorodu, Lagos.
The ladies also accused him of raping them on the pretence of removing Ogbanje spirit from them.
The suspect, it was learnt, confessed to the police that he met the victims on 4, Church Street, Oshodi, Lagos State where they ply their trade as commercial sex workers.
Narrating their ordeal to P.M.NEWS, Esther Inyang said she met the suspect early this month in Oshodi where she works as a commercial sex worker.
"He came to me around March where I was doing my 'business' and he bought Malta Guiness for me. Later, he said he saw a vision concerning  me and my sister, Patience, that we belonged to the river spirit, mammy water.
"We believed him because several pastors have told us before that we have mammy water spirit. He described himself as a herbalist who helps women, ladies who have problems of barrenness and women who find it difficult to stay with a man. He said he also makes progress medicine with just N3,000.
"He gave us his phone numbers and address and we went to meet him at Ikorodu to solve our problem. To our surprise, after collecting N3,000 and N5,000 from us as consultation fees, he directed me to go and bring N250,000 while my sister should produce N350,000. We were also asked to buy three goats, cow, calabash, white cloth and native pots to appease the spirits inside the water. He prepared a concoction for us to eat and we ate.
"After this, I paid him N250,000 and he followed my sister to the UBA branch at Ikorodu to withdraw N350,000.
"Before he took us to a flowing stream  at midnight to take our bath, he used  a razor blade to cut our forehead, back of our neck and cut pubic hair from our private parts, burnt it and used the ashes to rob the spot he cut with blades so that, according to him, the mammy water spirit inside the stream will abandon us and leave us to live our free lives.
"He gave us pots full of concoctions to carry on our heads to the stream, wearing white cloths. When we got there, he ordered us to untie our cloths and tell the pots our problems before throwing them in the flowing stream.
"After the sacrifice, he told us that he must have sex with us inside the bush before the sacrifice can be accepted by the spirits. He had sex with us till day break.
"His promise to make us rich did not materialise and the spirits are still tormenting us. That was why we reported him to the police and he was arrested.
"I am begging the police to help us recover our money and ensure that the law takes its course," Esther pleaded.
In his statement to the police, the suspect confessed that he was not a herbalist and that he learnt to defraud people from Benin city, Edo State. "I am not a herbalist. I always look for my target, especially light-skinned girls or ladies because they are very easy to deceive.
"I will go to a brothel or a party to see vision for people and later give them my phone number and address. They willl come to my shrine and I will prepare concoctions for them to drink. After this, they will bring all their money to me.
"I have build houses in Lagos and my village in Edo State. I have a car and I am married with six children. I promise to look for a better thing to do if I am set free and I promise to pay back the money to my victims," he told the police.
—Paul Iyoghojie