A massive 8.9 magnitude quake hit northeast Japan today, causing a 10 meter tsunami along parts of the country's coastline, NHK television and witnesses reported.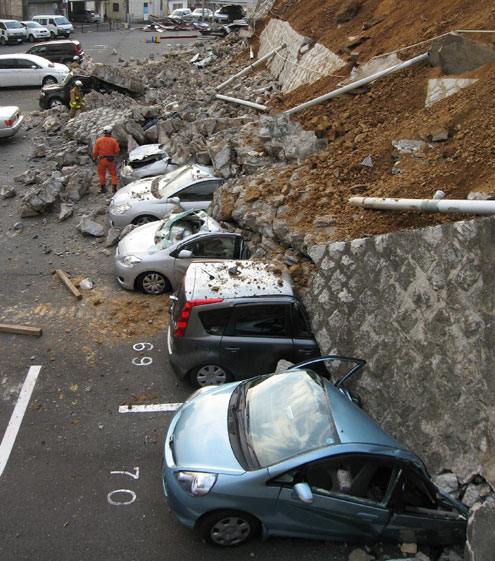 This was the biggest earthquake to hit Japan in 140 years.
Japan's Fire and Disaster Management Agency and police say at least 29 people have died in the quake and tsunami, with the death toll expecting to rise.
At least five of those reported dead were killed in Fukushima prefecture located north of the capital, Tokyo, where four million homes were without power.
There were several strong aftershocks following the quake, which also caused buildings to shake violently in Tokyo.
Japan's prime minister said the quake caused major damage in northeastern Japan, but that nuclear power facilities in the area were not damaged and there was no radiation leakage.
"The earthquake has caused major damage in broad areas in northern Japan," Prime Minister Naoto Kan said during an emergency news conference.
He added that "some of the nuclear power plants in the region have automatically shut down, but there as no leakage of radioactive materials to the environment."
The Japanese prime minister said that an emergency task force had been set up to manage rescue efforts.
"The government will make an all-out effort to ensure the safety of all the people and contain the damage to the minimum," Kan said.
TV pictures showed a vast wall of water carrying buildings and debris across a large swathe of coastal farmland.
Public broadcaster NHK showed flames and black smoke billowing from a building in Odaiba, a Tokyo suburb, and bullet trains to the north of the country were halted.
Black smoke was also pouring out of an industrial area in Yokohama's Isogo area. TV footage showed boats, cars and trucks floating in water after a small tsunami hit the town of Kamaichi in northern Japan. An overpass, location unknown, appeared to have collapsed into the water.
Kyodo news agency said there were reports of fires in the city of Sendai in the northeast, and stunning TV footage showed the tsunami carrying debris across a large swathe of coastal farmland near the northeastern city, which has a population of one million.
"The building shook for what seemed a long time and many people in the newsroom grabbed their helmets and some got under their desks," Reuters correspondent Linda Sieg said in Tokyo.
"It was probably the worst I have felt since I came to Japan more than 20 years ago," Sieg said.
Passengers on a subway line in Tokyo screamed and grabbed other passengers' hands. "The shaking was so bad it was hard to stand," said Reuters reporter Mariko Katsumura.
Earthquakes are common in Japan, one of the world's most seismically active areas. The country accounts for about 20 percent of the world's earthquakes of magnitude 6 or greater.