Anxiety has gripped fans of popular Yoruba actress, Tayo Odueke, otherwise known as Sikiratu Sindodo, over her ill health.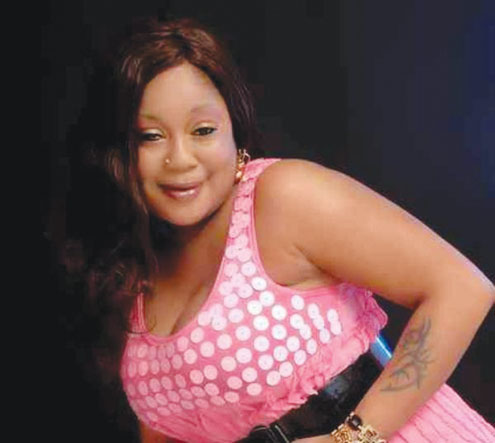 The actress has been bed-ridden for about three months now and her fans anxiously want to know her current condition.
On Saturday last week, rumours that the actress had died spread all over town, but some of her colleagues swiftly reacted on some social network sites that she is still alive and was responding to treatment.
P.M.NEWS reliably gathered that the actress was discharged from the intensive care unit of an undisclosed hospital where she had been receiving treatment last weekend. And she can now speak and walk gradually.
A very reliable family source disclosed to P.M.NEWS that the actress was actually taken out of Lagos to a traditional healer before she could regain consciousness because "all this  while that she has been in the hospital, there was little or no improvement."
The last film produced by the actress, Were Alaso, was released from the stable of Gemini Films and Records on Monday, and it was further gathered that it was the marketer that footed the hospital bills which was deducted from what the actress earned from acting in the movie.
Sikiratu Sindodo's current health status has generated a lot of controversies and speculations. While some are of the opinion that she is suffering from a strange ailment, it has been reported in some quarters that she was having HIV/AIDS. It was also reported that she was suffering from spiritual attack or kidney related ailment.
What really baffled her family and few colleagues who were privileged to see her on the sick bed was the fact that she could neither speak nor walk. She was said to be having chronic stomach pains among other things which seemed somehow complicated.
When the ailment first started, the actress was admitted at the Lagos State University Teaching Hospital, but the ongoing doctors' strike prompted her family to move her to a private hospital. But when her condition was not getting better, they had to employ traditional means.
Close sources disclosed to P.M.NEWS that she can now talk and is also trying to walk, a development they described as a big relief for her family members, her mother in particular.
Perhaps because Sindodo's fans have anxiously waited in vain for months to hear her clear the air on the controversies surrounding her health, they began to spread the rumour that she was dead.
As at yesterday, some of her fans were still calling to ascertain if she is actually dead or not. Apparently because of the heat generated by her death rumour, some of her friends have been announcing on social network sites like Facebook and Twitter that she is fast recuperating.
Popular Yoruba actress, Iyabo Ojo posted on her Facebook status a few days ago that Sindodo is not dead. She assured the actress' fans that her colleague is getting better and would soon bounce back in front of the camera.
Another actress, Eniola Badmus of Gbogbo Big Girls fame also denied the rumour that Sindodo is dead on Facebook status and Blackberry broadcast message.
She reiterated that Sindodo is getting better and urged her fans to be calm and stop spreading the rumour of her death.
Meanwhile, a cousin of Sindodo who spoke with our reporter on conditions of anonymity claimed that she was diagnosed with a kidney related disease.  This, the source said, is not a surprise to the family because on several occasions, she has been advised to cut down on her smoking and alcohol intake.
At the moment, the single mother of one has lost weight and her skin looks pale. Only few of her colleagues have been allowed to visit her in the hospital. They have also been warned not to disclose anything about her condition to the public.
When asked if he knows the cause of his cousin's ailment, the source simply said: "no one really knows. But you know that she is a chain smoker and she drinks too. That could be the cause because I overheard one of the doctors in the hospital saying something like that. But I'm not really sure anyway.
"She is trying to keep everything as secret, which is why she is not announcing it publicly. We were surprised when some people started saying that the wife of Governor Fashola has given her money to travel out for treatment. I think one of her aides (the governor's wife) called at a time, but money has not exchanged hands," the source said.
Sikiratu Sindodo is one of the most controversial Yoruba actresses. A drop-out from the University of Lagos (UNILAG), Akoka, she was detained at Panti Police Command for about  two weeks in 2009 when she mistakenly crushed a toddler to death with her car. She would have been sent to jail if the family of the late toddler had pressed legal charges against her.
After much plea from the actress and other influential personalities in the country, the family of the late toddler decided to suspend the move to take a legal action against her. She would have been charged for manslaughter.
At a time, Sindodo was also reported to have fought a colleague, Dayo Amusa publicly over the latter's romance with a National Union of Road Transport Workers (NURTW) top shot.
Sindodo claimed to have introduced the NURTW guy to Dayo, but was surprised that her colleague later back-stabbed her.
She later dated NURTW boss, MC Oluomo, but the romance barely lasted for a year. And shortly after that, she dated Fuji music star, Sule Alao Malaika, but the relationship has also hit the rocks.
—Bayo Adetu
Copyright protected by Digiprove © 2011 P.M.News