Lagos State Governor, Mr. Babatunde Fashola (SAN) on Saturday called for a return to values which compel society to punish offenders, rehabilitate such offenders after serving their punishments but never to celebrate them.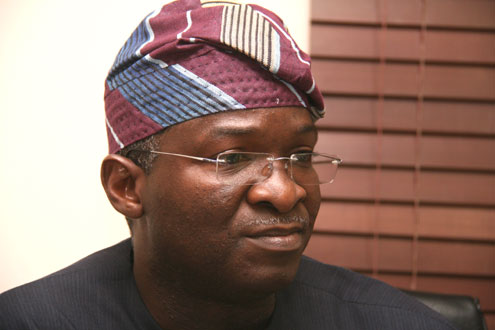 Governor Fashola who delivered the keynote address at a Summit for young change agents tagged: "Conversations to Change the Nation; 1000 Points of Light" convened by the Daniel Generation held at Olive Tree, Main Arterial Road, Banana Island, said with the right values such people can only be celebrated if they show penitence, contrition and contribute back to the national development in a transformational way.
The Governor who spoke on the topic: "What it will take for Nigeria to Work: Imperatives for the next 10 years" added that it is only values that require everyone to subject themselves to the law equally without discrimination that should be promoted.
He added that Nigerians must develop a spirit that believes that nothing is impossible to achieve as demonstrated in Lagos where several myths of impossibility have been shattered.
He explained that with proper values and right attitude, things would get better in the country and faulted those identifying the large size and population of Nigeria as a reason for her inability to develop, citing the examples of bigger countries like United States and China which have used their massive population to great advantages.
Governor Fashola noted that citing heterogeneity of Nigeria as a problem missed the point if a country like Israel has over 70 languages, and has developed because the people had an undying belief that they must innovate which has kept them going till today.
"If we resolve to stick to those things that are good about the Nigerian way, we will be on our way to the promised land in a very short while because Nigeria is not a lost case.
"Successes have been recorded in the past in several sectors but we have been overwhelmed by some of the challenges which have made it difficult for us to recognize and appreciate the successes."
Governor Fashola said his confidence stems from the fact that he has witnessed two periods in Nigeria's history which were the period of the sixties to seventies and the eighties to the nineties.
While he described the period of the sixties to seventies as the period of greatest prosperity when social, facilities like education worked, the period of eighties to nineties is best described as a period of political turmoil and economic decline.
He said economically it has been proved that nations do have periods of development and stagnation which is separated by a 10 year period which brings about rise to prosperity and stagnation.
The Lagos State Governor reiterated that if the feats of the seventies were achieved by Nigerians there is nothing stopping them from re-enacting same this time around.
He stated that while the population continued to grow, new roads were not being built neither were new schools being constructed or additional water facilities being put in place, with the last major federal road in Lagos completed in 1991.
Governor Fashola explained that in such an environment where there are shared resources which people tried to access without success, it becomes more frustrating.
He also told the gathering made up of about 1000 youths drawn from different fields that the present administration could have taken the wrong step but took the right one because it found the missing link and then adopted infrastructural renewal as a strategy to alleviate poverty.
By so doing, the governor noted, many myths have been destroyed such as the tagging of Lagos as a concrete jungle which is now a city of green parks that has provided jobs to over 30,000 people and 43 companies in the process.
He said the same applies in the transport sector where over 1200 high capacity buses have been provided to ease transportation for people by creating a new comfortable and secure way of commuting through the buses while also providing jobs to those who man the buses.
Noting the fact that there are no crime free societies, the governor said the present administration has reduced crime by over 80 percent while  eight out of every 10 stolen vehicles are recovered.
Governor Fashola said part of the measures adopted by the government is the introduction of a toll free emergency number which allows victims of accidents, crime or disasters to make calls which alerts first responders to rescue them.
He said the Agege Motor Road which hitherto served as the only link to the Western region because there was no Ikorodu road became an albatross due to the activities of traders who sold on the rail tracks and the roadsides.
He said the road has now been reordered to allow free flow of human and vehicular traffic that has reduced travel time from three hours to 40 minutes on the road.
Responding to a question on electricity supply, Governor Fashola said currently, the state generates 270MW which is however being fed into the national grid as the power to control distribution still lies with the Federal Government.
The government, according to Governor Fashola, has also provided a 12MW IPP for Iju and Adiyan Waterworks to increase the volume of water being generated at the facility from a little above 40 million to about 105 million gallons daily.
He also gave a commitment that by the end of April this year, government will commence the provision of 10MW IPP that will power facilities like the Lagos Island Maternity Hospital, General Hospital Lagos, the magistrate's courts and 20 major streets which would ultimately be scaled up to 114 megawatts.
While responding to a question from the audience on maintenance of roads, the governor said the administration is now scaling up maintenance which encompasses a plan for all state roads network.
On the need to curtail harassment of members of the public by Lagos State Traffic Management (LASTMA) officials, the governor explained that the officials are regularly enlightened that it is not for every violation that a motorist should be arrested since such an offender could have the photograph of his vehicle taken to enable him being tracked down.
Responding to another question on why it is so difficult to obtain a drivers license, Governor Fashola said the problem is traceable to over centralisation which has vested what used to be the function of Local Governments in Federal Road Safety Commission (FRSC) which lacks the capacity and manpower to engage in such an exercise, adding that unlike the State Government which has established Drivers' Institute in different parts of the State, it was strange that licenses could be issued without  conducting proper tests for the drivers.
On water transportation in Lagos, the Governor said currently ferry services are being run from Ikorodu to Ebute-Ero and Oworonshoki to Ikoyi with two jetty terminals at Badore and Ikorodu already completed.
Governor Fashola reiterated that concessionaires are already discussing with the State Government on bringing high capacity ferries that will convey passengers and their vehicles across the waters.
He commended the organisers of the event especially the former Attorney General of Lagos State, Professor Yemi Osinbajo, whom he described as a very inspiring figure for him.
In his remarks, Professor Osinbajo described Governor Fashola as a man with a capacity for developing arguments which often proffer solutions to issues, adding that throughout his four years as Chief of Staff to the former Governor of Lagos, he sat next to Governor Fashola on the executive council.
The summit was attended by the Permanent Secretary in the Ministry of Justice and Solicitor General for the State, Mr Lawal Pedro (SAN) and other distinguished guests.
Copyright protected by Digiprove © 2011 P.M.News