Governor Babatunde Fashola of Lagos State, South West Nigeria has his rival in the Peoples Democratic Party, PDP candidate, Dr. Ade Dosunmu, to consider applying for a ministerial position because he will not be governor of Lagos State.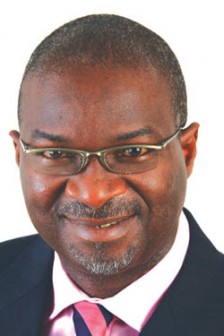 Fashola spoke at a rally at Shomolu Senior Grammar School, Shomolu, Lagos, South West Nigeria at the weekend.
The governor said instead of Dosunmu always saying he would rely on the Federal Government to develop Lagos, he should consider applying for a ministerial position since a governor must not wait for the Federal Government before governing a state.
"If he wants to be a minister, he should just apply to be a minister, but I will be a governor who will be there for you; the Federal Government has not been able to discharge its responsibility of electricity, fuel, employment and security in the last 12 years; why will it leave its own responsibility to manage the responsibility of a governor that is not prepared to do his own work?
"Do you think that if they know how to do it, they will have abandoned projects?  Let me tell you, what  we are seeing is constant failure at the federal level. The federal government cannot do it for Lagos," he said.
"My opponent is telling you that you should vote for him so that he can bring the PDP net failure into Lagos State.  PDP is a virus; your vote is the antidote to neutralize that virus; anywhere you see PDP, vote them out. You have seen 12 years of failure, and incompetence.   This is the time to vote PDP out of our lives. In 2003 you gave PDP a yellow card in 2007 you gave them another yellow card, this 2011, you must give them a red card," he added.
The governor stated that the government had been able to rally support for the police in Lagos State by providing patrol vehicle and equipment using the tax payer's money to discharge the responsibility that was not "ours because they have failed in their duties."
Fashola, however, said that his administration was planning to provide Independent Power Projects for Shomolu so that it could help the area in its printing job.
"Let me tell you what we are doing in terms of power, even as they failed  we are finding solutions; Shomolu is the headquarters of printing in Nigeria, Somolu is home to printing industries which employed thousands and thousands of young people.
"Over the next three months, we will commission a power holding plant to provide electricity for Somolu's printing industries and I assure you that once that power holding is out, we will provide electricity to all the printers of Shomolu," he stated.
The governor disclosed that in this year's budget, his administration had concluded plans to rehabilitate 14 roads in Shomolu in order to make life better for the people.
He also said the state government was building the first kidney and cardiac transplant centre at the Gbagada General Hospital so that cases of kidney transplant and cardiac problem would be treated in Lagos rather than overseas.
Fashola stated that his administration had already completed several road and drainage projects in Shomolu and had begun the indoor residual spraying against malaria in 13 local governments, including Shomolu.
—Kazeem Ugbodaga  & Yisa Jamiu
Copyright protected by Digiprove © 2011 P.M.News