The Lagos State chapter of the Action Congress of Nigeria, ACN, has slammed the Labour Party, LP, over its reported endorsement of Governor Babatunde Raji Fashola who is also the ACN governorship candidate in the April poll.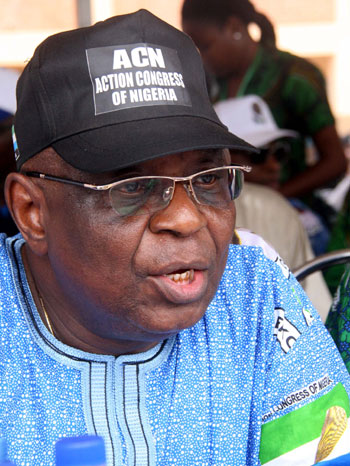 In a statement issued today, the party said it has no pact with Labour Party and described the endorsement of Fashola by the Labour Party as a Greek gift. It rejected it outright.
ACN faulted Labour Party governorship candidate, Dr. Rotimi Olulana who was reported as saying that his party would field candidates to contest in all the other positions on its platform.
"This is a clear case of an absolutely an unknown party trying to sneak into power through the back door," the ACN said, adding that the LP's effort to reap electoral profit at the expense of the ACN through a divide and rule tactics would fail as the ACN is too cohesive and the people of Lagos State are sophisticated to fall for the LP's tactics.
The party said it is proud of the giant strides taken by Governor Fashola in the ongoing transformation of Lagos State, stressing that he had built effectively on the solid foundation he met and accelerated the pace of development in the state.
The ACN described LP members as those who vehemently opposed Fashola in 2007 when he was described as the best man for the job. But now that Fashola has proven the party right, his erstwhile detractors claimed they have endorsed him.
The statement added that the ACN does not need LP's endorsement to win election at any level in Lagos State, describing the party's endorsement as of no electoral value.
The ACN said it was aware of sinister moves by members of the LP to collaborate with the PDP to 'capture' Lagos. It said secret meetings were held in Abuja, Lagos and Ogun states.
The largesse doled out by the PDP, the ACN alleges, is currently a source of acrimony among the leadership of the LP as many of them believed they have been shortchanged.
The PDP's game plan was to field LP candidates in Lagos State since the party is held in contempt in Lagos State and could not win election in the state, the ACN said, adding that they also flew another kite by saying "the only way to save Fashola from impeachment during his second term is to ensure that the ACN does not have the majority in the Lagos State House of Assembly."
According to the ACN, the PDP and LP cooperation would fail in their plan to get a foothold in Lagos, since the party has already sensitised its supporters.
"PDP plot to take over Lagos by using the LP is destined to fail because the ACN is known to be a welfarist ideological party. Those who hatched the plot are doomed," the ACN said.