A suspected fake lawyer, 25-year-old Alachenu Anthony has been arrested at Ikeja by policemen attached to Alausa Police Divisional Headquarters, Ikeja, Lagos for alleged impersonation.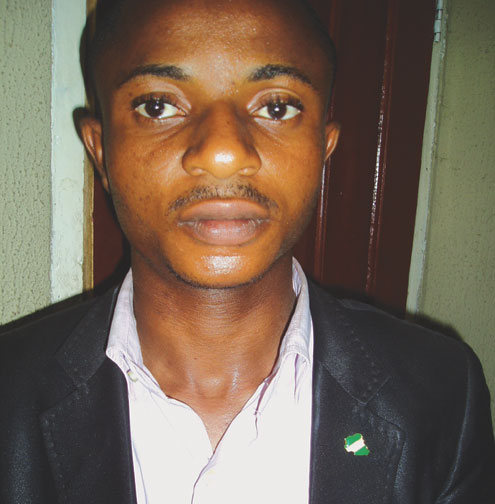 Anthony, a Senior Secondary School Certificate holder who arrived Lagos from Imo state in 2009, was arrested while illegally soliciting for the release of three commercial motorcyclists at Lagos State Traffic Management Authority (LASTMA) office in Alausa Ikeja.
According to the police, he was contacted by the affected Okada riders for legal assistance having pleaded in vain with LASTMA officials who confiscated their motorcycles for committing traffic offences.
The suspect in an interview said he had observed his principal handle related matters over time which according to him had rekindled his confidence that he would be able to handle such matters without any flaw. He also said his future ambition was to become a lawyer.
"I have been working with Oladunni and Co in Ogolonto area for about a year and I have been able to learn how my boss handled such matters. I just wanted to help them (the Okada riders) because I did not collect any money from them.
"I have never impersonated before. They told me their Okada was seized by LASTMA officers and that they have tried all they could but the officers refused to release their motorcycles. I just told them to bring N2,000 each for me to help them speak with the officers," Anthony said.
It was gathered that Anthony introduced himself as a lawyer to LASTMA officials and showed them his identity card which was later discovered to be fake. As fate would have it, one of the officers was familiar with the law firm Anthony claimed to be working with.
The officer put a call through to the principal of the firm and the latter informed him that Anthony was his secretary and that he was not a lawyer.
"When I met with the officers they asked me if I am a lawyer and I said yes so that they will respect me. I was not aware one of them was close to my boss.
"I really regret my actions. It is the work of the devil. When Satan wants to destroy one, he looks for ways to bring him down. I had planned and dreamt of being a lawyer and surely by God's grace, I will make it," Anthony declared.
Police Public Relations Officer, Lagos State Command, Jinadu Samuel, a Deputy Superintendent of Police who paraded the suspect yesterday warned criminally minded people in Lagos State to refrain from their criminality as Lagos State Police Command is not ready to relent in its effort to fish out all the criminals within the state.
Jinadu said investigations on the matter will soon be completed after which the suspect will be charged to court.
—Dedeigbo Ayodeji