TheNEWS management is compelled by its sense of public duty to set the records straight in the matter regarding Governor Gbenga Daniel of Ogun State and his ill-thought and confused reaction to the magazine's story on the failure of his eight-year administration.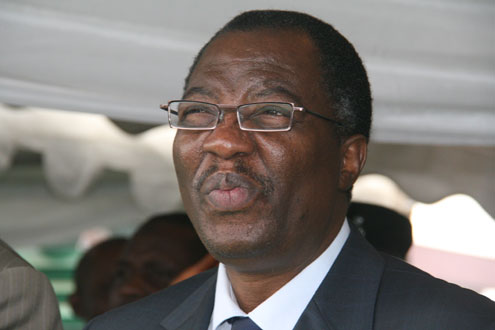 In one breath, in advertisements funded by the state treasury, Sina Kawonise, Daniel's Commissioner for Information, without a scintilla of proof, said TheNEWS' story was a collaborative work between the magazine and Asiwaju Bola Ahmed Tinubu, who they even alleged, again without proof, is the magazine's owner. Tinubu, the Commissioner claimed, 'dictates to the editors'. In another breath, Kawonise said the story was anchored on the opinion of the Deputy Speaker of the state House of Assembly, Remmy Hazzan. How beffudled can you get? And then the advertorials rambled on to catalogue the "achievements" of the governor.
Remarkably, nowhere did the lengthy response debunk some of the salient issues raised by the magazine, such as the degradation of many roads a few months after commissioning. These include the Abeokuta-Sagamu Road feverishly touted by Daniel as a masterpiece. The governor can surely not strut before residents of the vast areas under Ifo Local Government, from Ojodu Abiodun, Akute, Lambe, Matogbun, Oke Aro, Ope Ilu and Ijoko to Ifo, whose terribly deplorable roads he left unattended. He also cannot stand before the people of Ado Odo – Otta Local Government and lay any claim of good governance. The same bad leadership stories ring across the entire state. Nor did the response address Daniel's use of state resources to fund his birthday celebrations, numerous foreign trips by his wife (a non-government official), gifts to members of his party and patronage of his media empire.
TheNEWS' story acknowledged the building of stadia in the various zones of the state and the governor's alleged international markets, but also questioned the viability and relevance of these projects when the basic needs of the state are neglected. One major need is potable water. For example, Ijebu-Ode, Daniel's original hometown before he strangely adopted Sagamu, still has no water. So is Abeokuta, the capital. The governor's claim that his administration regularly maintains roads is symptomatic of a disconnection from reality. It is a claim that only a scrambled mind can produce.
And Daniel will leave office in two months time!
In any case, what verdict does the Governor of Ogun State want us to pass on his administration when former President Olusegun Obasanjo, a member of Daniel's party, had arrived independently at a more damning verdict days before the magazine hit the newsstands. Chief Obasanjo, at a public forum to mark his birthday, expressed a desire for the state to be better governed. The PDP governorship candidate in the state has also been saying that he is coming on a "rescue mission". It is only an object that is drowning or sunk that requires rescue. Many Ogun sons and daughters are convinced that Daniel is a bonafide failure. And this was made known to him in the clearest language via the resounding jeers his name provoked at a recent party rally at the MKO Abiola Stadium in Abeokuta.
Does the governor ever do self-examination like Socrates urged us to do? If he ever does and he is not deluded, we are sure he would not expect a flattering assessment of his government. His was a government from which so much was expected. But he has ended up a breathtaking failure, despite his education and global exposure. His tenure has been marked by the noxious politics and squandering of state resources on ill-conceived projects and vanities like billboards, with his smiling face – perhaps mocking the people – at strategic places in the state and at project sites, most of which were abandoned after billions of naira were spent on them!
His poisonous politics saw him acting like an emperor, often disrespecting the custodians of our tradition and organs of the state. Such l'estat C'est moi attitude bred the legislative impasse in the state, with Ogun State now having the negative distinction of being the only democracy without a functioning legislature. And Daniel has been running the affairs of the state like a "sole administrator", in a democracy!
Daniel's fantasy cargo airport has not taken off more than two years after he said it would.
True, the magazine had written several stories about the Daniel administration in the past. As a news medium, we owe the public a duty to offer an assessment of any administration. But each time, the governor's response has been to abandon the substance and embark on shadow-chasing and cheap blackmail, accusing publishers of TheNEWS of being in conspiracy with Asiwaju Bola Ahmed Tinubu to pass a verdict of 'failure' on his government.
Is Obasanjo also working with Tinubu? Did the crowd that booed him at the rally go to the stadium from Tinubu's home or TheNEWS' corporate headquarters?
TheNEWS management denies vehemently that its stories are done in collaboration with anyone outside our editorial room. Its management may not have vulgar luxury mansions in Abuja or Sagamu like the Ogun state Governor has, but the magazine has some luxury of independence, which it guards jealously. It was founded on this creed of independence 18 years ago and has sustained it. Thus, we can only be bemused by the unfounded claims that our stories are being teleguided externally. The governor apparently does that with his Nigerian Compass. We concede that right to him.
TheNEWS magazine is not the sole property of any individual. The record of its owners is available at the Corporate Affairs Commission in Abuja. Trials and Triumphs: The Story of TheNEWS, written by Wale Adebanwi also provides such information. We assume the governor and Kawonise can read and understand things.
But then, it is not only organisations within Nigeria that have low opinion of Gov. Daniel's administration. Even foreign bodies always rank it low. For example, the World Bank Group, on 11 June 2010, launched its "Doing Business in Nigeria 2010: Reforming Through Difficult Times" report in Abuja. In arriving at its conclusion, the World Bank used four criteria – starting a business, dealing with construction permits, registering properties and enforcing contracts.
On the World Bank's 2010 scale of Doing Business in Nigeria, while Ogun State was ranked 37th (the last), Jigawa in the far north, was number one. World Bank even added an asterisk on Ogun's position, emphasising that it won the same booby prize in the report of 2008!
Finally, we think it was presumptuous of the governor to rush to defend his failed regime. It's a duty better left to people of the state and to posterity.
Copyright protected by Digiprove © 2011 P.M.News