The Lagos State chapter of the Action Congress of Nigeria has warned that the continued threat on the life of Asiwaju Bola Ahmed Tinubu, the leader of the ACN is real and that Nigerians should take adequate note of it should anything unsavoury happen to Asiwaju Tinubu.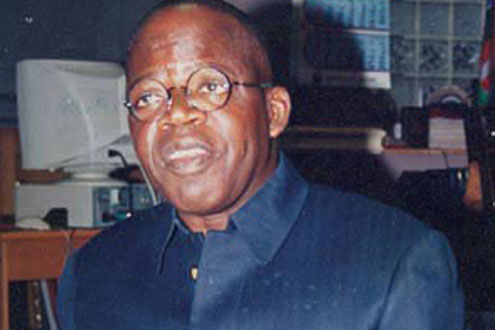 The party says it is forced to issue this warning in view of the unrelenting manner the PDP has been going about its threat to take Tinubu out by either hook or crook in the hope that such will improve their chances in both the South West and the entire country in the coming election.
In a release in Lagos, signed by the Lagos State Publicity Secretary of the ACN, Joe Igbokwe, the party says it is disturbed that the henchmen of the PDP are plotting endlessly to both eliminate Tinubu or arrest and frame him up with any ridiculous charge as a way of preventing his active participation in the coming election.
The party assures the PDP that "the elimination of Tinubu or his arrest on flimsy charges will bode such ill will that will lead to the end of PDP for we know whom to hold responsible for such act.
"By now, every Nigerian knows that Tinubu constitutes such a scary nightmare to PDP's reckless audacity to ride rough shod over the entire country. Every Nigerian knows that Tinubu constitutes a real threat to PDP's penchant for stealing electoral mandates with impunity and doing everything to keep these stolen mandates.
"Every Nigerian knows that the average PDP member lives on the fear of Tinubu's electoral value, which is a direct threat to PDP's own belief.
"When we remember that the PDP does not suffer gladly any threat or obstacle to this devilish inclination to steal electoral mandates, we have reason to take seriously their unrelenting threat to eliminate Tinubu or, manufacture frivolous charges to precipitate his arrest and detention before the next election.
" When we remember how Bola Ige was eliminated when he signified interest to quit the Obasanjo cabinet and rebuild AD in 2001 and when we remember that the prime suspect in his assassination was rewarded with a lofty senate seat even while he was in prison, we must not take lightly the present do or die resolve of the PDP to take out Tinubu and prepare the ground for the mother of all electoral roguery in 2011.
"The circumstances that made our revered Nobel Laureate, Prof, Wole Soyinka to term PDP as the nest of killers are still as current as when he made that damning statement. We must recall how the PDP in 2003, shamelessly rigged elections in Oyo, Ekiti, Ondo, Ogun, among many other states in Nigeria and how the party reduced the 2007 election to a comical joke that still smells before the entire world today just because it wants power through a do or die means.
"Nigerians should be warned that these negative tendencies still run through the veins of this notorious party that has violated all that is sacred and sacrosanct just because of its inordinate lust for power to steal.
"We want to alert that this shameful lust for unearned power is what is driving the present plots hatched against Tinubu and which has now formed the primary business and action plan of the PDP en route the coming election."
The party also said "Nigerians should not be surprised that a party that has misappropriated twelve solid years of democratic governance and trillions of Naira is today predicating its continued relevance on hatching devilish plots against opposition figures since it has nothing to show for its prodigal stay in power.
"It is awful that a party that has fully executed three full terms in power still depends on such macabre plots to survive instead of the developments it has wrought in those three terms. Is it not a terrible thing that a party that was blessed with twelve years of oil boom feels it cannot win an election except through widespread rigging and such desperate plots against its opponents?
"It is indeed a tragedy and the squalid state of Nigeria is enough proof of the catastrophic tragedy PDP has been in Nigeria. We want to let Nigerians know that as we issue this release, the PDP is engrossed in its devilish plots against Tinubu. We therefore warn that nothing should happen to Tinubu and that the total defeat of the PDP in the April election is an event whose time has come.
"Nothing will stop this because of the woeful performance of the PDP these past twelve years. We want to direct Nigerians to where to look for should anything happen to Tinubu. We want Nigerians to know where to look to should the PDP succeed in its present do or die plan to eliminate Tinubu. We also want to alert Nigerians that the chain effects of any arbitrary action against Tinubu who is the official Leader of Opposition in Nigeria today will certainly derail the present wobbly transition and no one can predict where such negative effects will lead to."