Former Governor of Lagos State, Asiwaju Bola Tinubu says President Goodluck Jonathan is former President Olusegun Obasanjo's masquerade and that a vote for the president meant a vote for Obasanjo.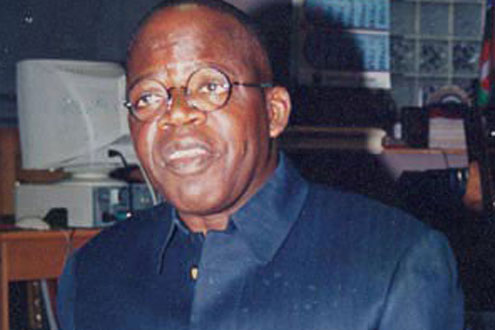 Tinubu spoke at the Action Congress of Nigeria, ACN, rally held in Agege area of Lagos, South West Nigeria on Tuesday.
"Obasanjo is deceiving us. If you cast your vote for Jonathan, you are casting it for Obasanjo. Jonathan is a masquerade of Obasanjo. Don't let them deceive you. Obasanjo is the one leading Nigeria into perdition.
"Obasanjo and Jonathan are siamese twins and they cannot be separated. They have failed Nigeria. If Japan that suffered from Tsunami only lost 10 percent of electricity and still conserve 90 percent, how much more Nigeria that never had a problem; we are losing 90 percent of electricity," he lamented.
According to Tinubu, "the decision time is here. The PDP has given us 12 years of bad leadership and failure; 12 years of over 20 million unemployed youths; 12 years of hunger; they cannot protect you."
Tinubu also rejected Labour Party, saying that "Labour Party is not our party and not our friend. Anybody dealing with those traitors will be treated as traitors. Any vote for Labour Party is a vote against ACN, Fashola and the leadership of the party.
"They are the permanent agent of the PDP. You can see that Labour Party did not field a presidential candidate. They have taken N3 billion from Jonathan and that is what they are using," he said.
The former governor called on Lagosians not to be afraid of anybody, saying that the PDP would explore several means to threaten them so that they could capture Lagos State.
"They will threaten you with soldiers; say no to them; you paid the soldiers and the police to protect you from you tax money. This is the only time to choose your leaders in four years.
"Vote for the ACN in Lagos State. We will win Ogun and Oyo States. We will also win Edo and some other states," he said, adding that "the struggle is real."
He urged members of the party to remain peaceful and to defend themselves when attacked by the opposition party, saying that "don't fight but you have the right to defend yourself."
Speaking at the rally, Governor Babatunde Fashola said he had delivered his electoral promises to the people of Agege as flooded areas in the council had been deflooded and roads built.
According to him, 12 roads were slated for reconstruction out of which eight had been completed, adding that the government would soon provide mass housing scheme for the people of Agege.
The governor disclosed that in this year's budget, 27 roads had been slated for completion in Agege, adding that already, about 4,536 people had benefited from the free medical mission of the state government.
"We have embarked on the construction of 16 schools out of which 13 had been completed. The expansion of the second phase of the Adiyan Waterworks will also benefit the people of Agege," he stated.
—Kazeem Ugbodaga & Yisa Jamiu