Barely a day after the burial of Ahmed Durojaiye Alasari, Nigeria's entertainment family has suffered another great loss as rising stand up comedian CD John is dead.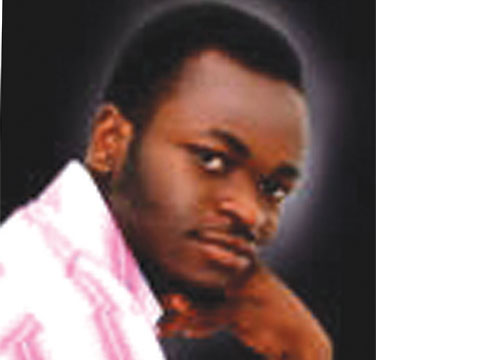 P.M.News

learnt that CD John died this morning after he suffered a serious injury in an auto crash in Lagos last night.
Reliable sources said he was driving a Black Gulf 3 car which ran into a stationary vehicle on Lagos Island.
From the accident scene, he was rushed to St. Nicholas Hospital, Lagos Island, where he died at around 7 this morning.
He was on his way back from the "Industry Nite" dedicated to Questionmark Records' act Harrysong who is promoting his new album. He was the MC at the event held at the Tribeca, Adetokunbo Ademola, Victoria Island, when he crashed his car.
A source said: "He was driving back to the mainland, heading to his home at Jakande Estate, Isolo when the accident happened. He was rushed to nearby St. Nicholas Hospital where he died around 7 this morning."
The shocking death of CD John, who emerged last year as one of the most promising acts in Nigeria's stand-up comedy industry, came less than a month to the first anniversary of the tragic death of rapper Dagrin, another very bright and promising rapper, via auto accident.
The young comedian became a regular performer and fans'-favourite at almost every gig and concert since late 2010 when major promoters and critics first noticed him.
Colleagues like Gbenga Adeyinka, Teju Babyface, Tee A, Basketmouth and Ali Baba have confirmed his death and expressed grief.
The late comedian, born John Chijioke, was a truly gifted singer and comedian who tried his hands first on music before he settled for stand-up comedy.
CD John will mostly be remembered for his funny Christian choruses – a unique style where he mimics lyrics of popular songs; presenting his own account of how different Nigerian tribes would deliver the lyrics. With a superb voice, growing repertoire and audience, he was control on the verge of becoming a big player in the competitive stand-up comedy scene. When death put a stop to all that promise.
"I've not even seen him this year. Everybody likes the boy. What's all this now," said Teju Babyface, another top comedian.
In his condolence message, Sound Sultan tweeted: "Just heard about the passing away of the comedian CD John. This is really sad cause he was just starting. R.I.P CD John."
PR aficionado, Adekunle Ayeni tweets: "RIP CD John. Such an amazing talent! Goodluck to the rest of us on death row. Ours is coming. May it now be now. Amin."
—Funsho Arogundade