A 45-year old teacher, Mr Fred Akpan has narrated an embarrassing secret to an Ikeja High Court. He told the court how his wife beats him up anytime they have a misunderstanding.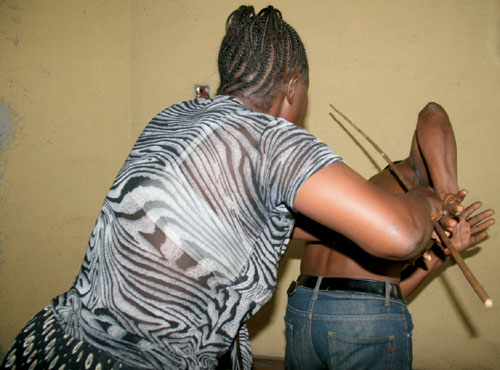 Akpan had approached the court presided over by Justice Joseph Oyewole seeking the dissolution of his marriage to Mrs. Mariam Akpan on the grounds of hostility and desertion.
The petitioner said he had cohabited with his wife after their marriage on 17 March, 2005 at 10, Powerline Street, Alagbado, Lagos, adding that the marriage had failed to produce any child.
He said: "my wife is very hostile. Anytime we are quarrelling, she will quickly lock the door to prevent neighbours from coming to help me.
"Then she will start slapping me. Pulling out my manhood from my boxer shorts and sometimes after finishing with me, she will lock me inside and I cannot even go to work."
According to him, he opened a shop for her to operate a catering business but she later turned it to a beer parlour without his consent.
Akpan said his wife deserted their matrimonial home on 12 August, 2006 after an overnight quarrel between both of them.
He further told the court that all efforts to reconcile with her had proved abortive because even her family had told him that she was no longer interested in the marriage.
—Henry Ojelu