Dr. Samsideen Ade Dosunmu, the governorship candidate of the People's Democratic Party, PDP, in Lagos State and former Director General of Nigerian Maritime Administration & Safety Agency (NIMASA), speaks with JAMIU YISA about his mission and other issues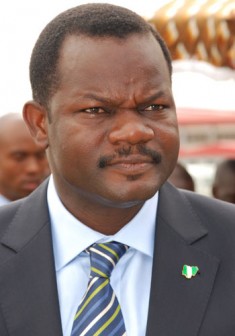 You have achieved so much professionally in the public sector, why dabble into politics?
I believe that the system has given so much to me, considering all I have gone through and yet, age is still on my side. I feel that this is the best time I can render a service to my people, more so when I know that I have a superior capability to deliver. When you talk about government, because I have the orientation for governance, I have worked for 24 years in government, while I studied Government up to doctorate level. I have practised Government and taught the subject in the university, so I know what is required when you are running government and I know that I will be doing Lagos State serious disservice if I don't bring in my experience, qualification, background and capability and offer myself to serve the people. We can't just stay by the side and be complaining that things are not done properly. Because of ignorance, lots of people don't even know that there is difference between running government and running business. Service must be affordable because government is about the people and when you say the people, you are talking about the majority. So the moment that what you are giving out in terms of programmes are not affordable, then you are no longer running government because your focus must always be the interest of the majority and that is one area that is lacking. I have seen a lot of government policies that are hidden. We have seen in the last four years that houses built are not affordable to even the middle class.
There is this general belief that the PDP has failed Nigeria, don't you think this may scuttle your chances?
I don't believe that the PDP has failed Nigeria. That is the propaganda sponsored by the opposition. In what way has the party failed Nigeria? PDP has brought stability to Nigeria. We know how the country was before 1999 and we know where we are today and you cannot tell me that there is no progress. You see, we have to be very objective when we talk, there has been stability in Nigeria and if PDP did not run the government well, there wouldn't have been stability. Secondly, we have seen progress whether we like it or not. I know in those days if you have to talk to somebody then maybe less than 50 people will have phone in Ibadan and then you have to start going to wait in one person's house or go to NITEL exchange to make a call and you are telling me that nothing has changed in Nigeria. Again look at the issue of petroleum products, we are seeing some stability. In those days, we used to queue for months in the filling stations. Look at the banking revolution that has taken place, our financial institutions have become stable unlike before, so to say. That PDP has failed Nigeria is nothing but opposition's propaganda. Is it here in Lagos that they have not failed the people where they generate revenue and give 25 per cent to one man as consultant? Do you know what 25 per cent amounts to? It is more than the budget of some states put together and then we would be saying that PDP has failed us. Go to Dan Fodio Street, a flat that government built goes for N51 million, how many people can afford that? What we have are businessmen in government. Anybody with that kind of money should go and buy land and build his own house. Everything they do is business. They will demolish traditional market, turn it into something else and sell each shop for N7 million for 25 years. I believe the media is the conscience of the nation, so go ahead and quote me, but don't quote me out of context.
If you become the governor of Lagos, what are you going to do differently from what the present administration is doing?
I will first of all reduce wastages. I want to cancel all the stealing going on in the name of consultancy so that such money can be properly invested. Secondly, nobody will pay any toll on any Lagos road and then we would build 10,000 affordable low cost houses within four years. During one of our debates, Fashola said he built 5,000 houses, but I haven't seen any of those houses. We would be creating new satellite towns and model cities because the problem in Lagos is congestion. The last time there was development in the suburbs was during the Jakande era when he created Abesan, Isolo and other housing estates and then, you saw people move to those areas. We would create self sufficient satellite towns where all amenities would be provided so that you can remain in your area and your children can go to school in that area. We would also create industrial estates. The last one was created by Mobolaji Johnson. This concept is for government to provide core human services to companies. It is sad that for a commercial centre like Lagos, government doesn't take electricity very seriously. It should be the first priority of government. Most companies are relocating out of Lagos because of this and the multiple taxation policy of the present administration. We believe that Lagos has all it takes to complement the effort of the Federal Government by building an independent power plant and that is our priority. It is not magic, it has been done in other states like Akwa Ibom and Rivers. These are what will sustain our industries and by extension, provide employment opportunities for the teeming youth. We would create enabling environment which is lacking presently.
How true is the allegation that the PDP is hell bent on taking Lagos by force?
The election is not here yet and they have started talking about the PDP taking Lagos by force. I am shocked that such unsubstantiated allegation can come from Babatunde Raji Fashola, a Senior Advocate of Nigeria. The governor of a state making a wild allegation. PDP wants to rig how? Nobody has seen any guideline, nothing is on ground and you say we have started rigging. The PDP believes that this time around, we have a superior candidate in terms of background and everything, that is why we are saying that this time around, we will take Lagos and it is not based on any force, we just believe that people can discern, look at our background, qualifications and programmes and then go out and vote. Nothing has changed in Lagos in the past 12 years. It is not all about environment and planting of flowers, government is about two things—physical and human development. When you talk about physical development, you talk about infrastructure. How many new schools have Fashola built? Go to Akwa Ibom State, within three and half years, the man has built almost four flyovers, an international airport and independent power plant. He built 48 first grade roads and so on. And here we are, somebody would just go and resurface roads and we would be shouting, but we are supposed to find out at what cost? Lagos State has collected over N3 trillion but is there anything on ground to justify that amount of money? For me, it is worrisome. Once we are elected into government, we would make accountability and transparency our watchword. I challenge the governor at the debate, let him make public all the jobs he has executed and the cost, that is all I want and Lagosians should judge whether those jobs can be done at such cost. I know a kilometre of road that was done for N2 billion, that is why I want that information to come from them, but if they refuse to bring it out, we will supply it because we have everything. This is the time to account to the people how you spend their money, the tax payers' money. Lekki-Ajah expressway, a 48-kilometre road, has been constructed for over N50 billion and that means over a billion naira per kilometre. I know Eric Moore road in Surulere, that tiny road from Bode Thomas Street junction to climb that bridge, is less than two kilometres, it was constructed for N9.5 billion. Is that the way to spend tax payers' money? And someone is coming to say we are working and people are applauding, at what cost?
What is the level of your acceptance by Lagosians?
It is quite encouraging everywhere we go, because we are on a rescue mission, we have to rescue Lagosians and I can tell you and I want to be quoted that if we don't rescue Lagos now, it will become bankrupt. As I speak, Lagos owes 17 per cent of Nigeria's external debt, so if we don't rescue Lagos now, I can tell you that it is heading for bankruptcy.
You have always talked about harnessing the potential of the water ways, what are these and how do you intend to go about it?
There is huge potential and as a maritime person, I know that Lagos is a coastal state with lots of potential for maritime trade and transportation, but in this particular case, I am looking at harnessing the potential of our water ways for inland water transportation. We will build jetties and maritime infrastructure across the state. If you are going to Badagry from Lagos, for instance, you can go on water. When I was the DG of NIMASA, I was all the time travelling on water and it takes less than 30 minutes to get to Badagry, a maximum of one hour to and fro and that is the type of opportunities I believe we should explore. You see, everybody doesn't need to use the road if you know that you can move through water freely and how do you do that? From CMS to Badagry, you can build about 10 jetties; those going to Orile will alight somewhere along the water channel, while those going to Ojo, Mile 2, Iba and so on, will drop in each jetty, because jetties are like bus stops. We would do the same for people going to Epe and Ikorodu because you can also build jetties from CMS to Ikorodu. There is a light terminal in Ikorodu and it used to take between 20 and 25 minutes to get to Ikorodu. These are the potential for water transportation and we would explore it by ensuring that we build the necessary infrastructure and put it to good use.
You have been hitting hard on some agencies of government like KAI and LASTMA, what would you do differently?
They are turning this place into a jungle city and Lagosians are mute. Yes, there is the need for law enforcement, no doubt about that, but I know that Black Maria is made for convicted criminals and here you put traders inside the vehicle, which is very unfortunate. I don't expect that from a learned person, he should have known that Black Maria is meant for convicted criminals and not even suspects. So, putting traders in it doesn't portray us well to people who really understand what governance is all about. I can't stand LASTMA and I can tell you today, that if I become the governor of Lagos State, LASTMA will be totally reorganised because the problem of agency is government, because government is using it for revenue generation. Every month, government tells LASTMA to bring so and so amount and so, it has turned itself into a punitive and no longer a corrective agency. They are not supposed to wait until an offence is committed before they correct, but here, they even lure you to commit the offence so that they can charge you. A lot of atrocities go on there. When they take your vehicle to Alausa, by the time you get there, the tyres are deflated and the funny thing is that they have only one vulcaniser there and that one will tell you that to inflate a tyre costs N1,000 and the money is also shared among the officials. And that is why I said earlier on that a lot of people don't have the orientation to run government and they are doing certain things ignorantly. Otherwise, as governor, if those kinds of things are going on, you must be concerned because it would have an effect on the people you govern. So for us, we don't think LASTMA is doing the right thing.
There is this fear that you are surrounded by people of shady characters, how would you react to this?
If you know my background, you will know that I only do what I want to do and nobody can influence me to do anything, while nobody has ever influenced me to do anything. That is one of the reasons I left NIMASA before the expiration of my four-year term. I was honoured with a national honour seven months after I left because I would rather leave with my integrity intact than compromise my principles. I am not saying that I am a saint, but what I am saying is that people know me and they know the type of person I am, while they know what they bring to me and what they cannot bring to me, because all my life, I believe in doing the right things. When I joined politics, a lot of people said I shouldn't, that it is dirty. Before my emergence as the PDP candidate, a lot of things were said, but people, in their sober moment, know those who have the quality to lead them.
What is your last word to the people of Lagos?
I have decided to offer myself to rescue them from imminent bankruptcy. It is very obvious and we have to do something serious about things in Lagos, otherwise, we would all be in big problem. I therefore appeal to them to give me their mandate to set things aright.