Action Congress of Nigeria, ACN, has urged the residents of Oyo State to vote out Governor Adebayo Alao-Akala and his party, Peoples Democratic Party, PDP,  because he failed to properly utilise over N300 billion his administration received.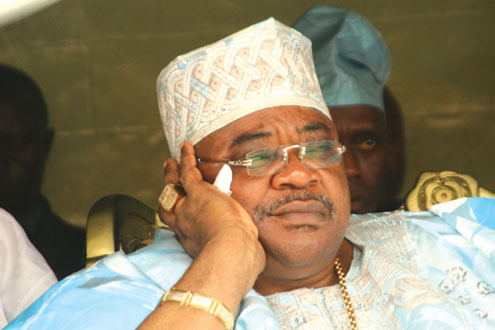 A Senatorial candidate for Oyo South Senatorial District, Chief Femi Lanlehin made this call while addressing newsmen at the weekend.
He stressed that people should commence voting out the bad governance of PDP from next Saturday when new federal legislators will be elected across the country.
Lanlehin said, "The government of PDP in Oyo State is a curse to Oyo State. The four years that Akala is about to complete in less than two months is not only a waste but years that will be remembered for violence, thuggery, murder, shedding of blood, lawlessness, mismanagement of funds, embezzlement of funds and corruption.  Akala's administration did not represent anything good."
He stated further that "Akala has been boasting of providing infrastructure, construction and renovation of roads and hospitals. Where are the infrastructure? All the roads he constructed are bad. Every month, he renovates newly constructed roads.  All the hospitals he claimed to have rehabilitated lack drugs.  No one can ever imagine the havoc this man has caused us until he leaves. All his projects are conduit pipes to siphon the state's money. The continuation of his administration beyond May 29 2011 is a continuation of suffering. So, the good people of Oyo State should vote him out."
The legal luminary, who appealed to the people of Oyo State to give ACN a chance which they will never regret, promised to qualitatively represent the people of Oyo South Senatorial District in the Senate.
He said that with Senator Abiola Ajimobi as the governor of the state, there will be a wind of change and deliverance of democratic dividends to the people.
According to him, "Don't expect anything less of what Lagosians are experiencing from the government of Raji Fashola (SAN). We will give you good and enduring roads. We will build hospitals of high standard and we will ensure that all the hospitals have drugs. We will have free medical service for the aged ones. We will reduce school fees. We will embark on full scale agriculture with the aim of reducing unemployment. We will create wealth. We will create jobs for the youths. Our government will be a listening one and we will run open door policy.  We will be accessible."
Lanlehin further called on the electorate to ensure that they protect their votes, asking them to vote and stand by it.
He said, "After casting your votes, don't go home. Stay there. Let them count the votes in your presence. But don't cause violence and make sure that you are law abiding. But use all your means to protect your votes."
By Gbenro Adesina/Ibadan