Presidential candidate of the Congress for Democratic Change, Alhaji Muhmmadu Buhari says Nigerians will hold President Goodluck Jonathan to his promise of free and fair elections in April.
Speaking during his visit to Governor Adams Oshiomhole in Benin City yesterday as part of his nationwide campaign, the CPC Presidential candidate said: "we must insist that our votes count in the next elections. Nigerians are determined that their votes should count."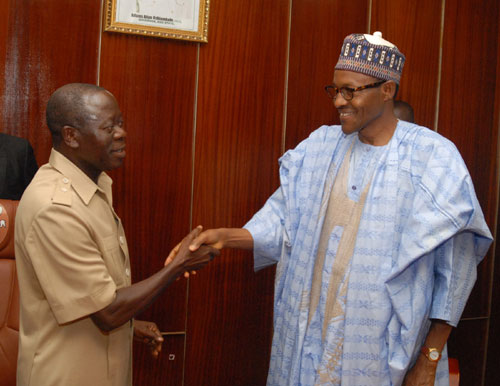 On his part, Governor Oshiomhole called on the Federal Government to show the world that Nigeria is truly the giant of Africa by conducting a free and fair election in April.
Comrade Oshiomhole canvassed the need for equal treatment for all the parties in the contest, adding that "they must have equal access to the print and electronic media including government-owned media."
The governor stressed the need for security agencies to be impartial in their dealings with the political parties.
According to him, "the security agencies must be encouraged to make a distinction between the government of the day and their obligations to police the country and not to mistake the ruling party for the country.
He decried a situation in Edo State where the police are being used on the basis of frivolous petitions to detain and harass party members, adding that if they are not stopped, then our commitment to credible election becomes doubtful.
According to him, the philosophy of rigging and going to court will be resisted, saying "we will not allow them to rig first and then go to court. Free and fair election is an irreducible minimum."
Comrade Oshiomhole described Buhari as "a man of honour and integrity", who will always be remembered for the discipline he preached, which many Nigerians still commend.
Among those who joined Buhari on the visit were Pastor Tunde Bakare, CPC Vice Presidential candidate, Prince Tony Momoh, National Chairman of CPC, former Minister of Labour, Comrade Hassan Lawal, among others.
—Yomi Obaditan/Benin