It was a  bitter-sweet experience for supporters of Congress for Progressive Change, CPC, in Kano, North-West Nigeria Tuesday  evening as scores of party supporters got injured at the party's
presidential rally.
One of the  tents mounted at the Race Course, venue of the rally suddenly collapsed when General Muhammadu Buhari, presidential candidate of the party arrived the venue. The estimated 100 injured party men  were rushed to the hospital by men of the Fire Service and volunteers.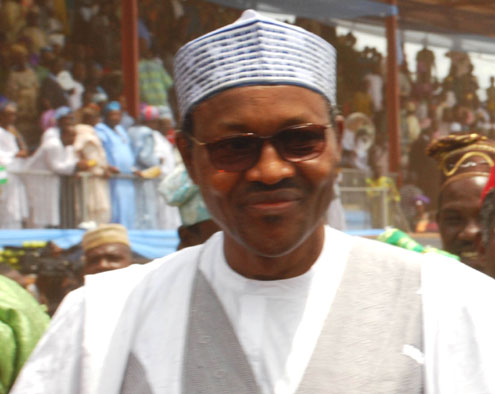 Buhari who came into the venue in  a Black Land Cruiser at about 6 p.m. could not address the surging crowd as he  waited for close to an hour to allow policemen  control the crowd which surged towards his Jeep to catch a glimpse of him.
After a futile  effort to alight from the car, General Buhari was forced to leave the venue at about 7:15 p.m .He  headed straight to Malam Aminu Kano International Airport.
.
Meanwhile, there are indications that the controversy surrounding the party's governorship candidature in the state is yet to be over as General Buhari neither raised the hand of Mohammed Abacha nor Brigadier-General Ja'far Isah as the recognized candidate for the party in the state. The CPC had appealed the Abuja High Court judgment that affirmed Abacha's candidature as confirmed by the Independent National Electoral Commission, INEC.
However, Mohammed Abacha was seen chatting with the party's presidential candidate at the Palace of the Emir of Kano, Alhaji Ado Bayero.
But  while on a courtesy visit at the Emir's Palace, General Buhari further fuelled the uncertainty when he  told the Royal Father that he was not in Kano to present anyone as the party's governorship candidat. He said  he was not in a haste to do so owing to the ongoing litigation over the issue. The CPC presidential candidate told Emir Bayero that he particularly visited the ancient city as part of his campaign tour across the country, adding that the support of the people of the state is very critical to his success at the April presidential poll. Emir Ado Bayero while responding said his prayer remains that God give Nigeria and Nigerians leaders that has the interest of the people at heart, while praying that God would lead Buhari through his campaigns.
By Maduabuchi Nmeribeh