Two days to the commencement of Nigeria's general election, Professor Attahiru Jega, the Chairman of Independent National Electoral Commission, INEC yesterday declared that he is not under any form of pressure from any political party or individual.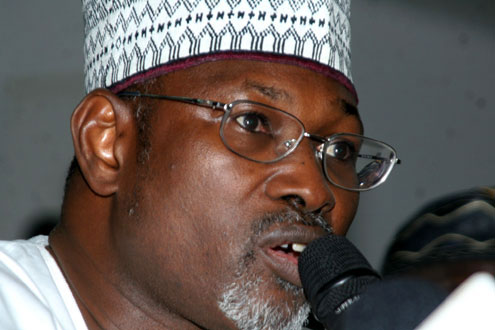 Jega was speaking to journalists yesterday in Abuja ahead of the elections which begin this weekend.
"I want to say categorically that I am not under any pressure .
"I have not been approached by anybody to do anything. I want to say that I have the capacity to resist any attempt to influence me.
"I believe that I will not be susceptible to inducement, the Chairman of INEC said.
Jega also said the staff have made an undertaking to carry out their jobs without fear or favour, adding that the Commission will not fail to wield the big stick on any defaulting official
"There may be some of us who may want to do otherwise but I can assure you if they do they will have themselves to blame.
"We will not defend the indefensible whether it is about observers or about our staff.
Jega also told journalists that INEC is working very closely with the Armed Forces for the elections.
He said the  Air force and Navy are working costly will help the Commission to deploy materials with use of boats and air planes, especially to places with challenging terrain on the election days.
He however agree that there
may still be on the voting day a few places where personnel and material may not arrive on time.
"We are doing our best to work on this. In general we expect voting to commence at noon. In those places we this is not so, we would know in advance . We are doing our best to overcome this challenges", Jega assured.
"We have held series of meetings our own staff to learn from their field experiences.
He listed the challenges the Commission is anticipating in the course of the conduct of the election to include the issue of crowd control.
Jega also said that soldiers will not be deployed at the polling units on election days as  "it is not a good practice" .
Soldiers, he said, will only come in to assist the Police if there is the need.
"We have been working with the security on a new platform-
It's been very useful and help to avoid inter agency rivalry.
"All security agencies have been provided extra fund to take care of their logistics
The INEC Chairman said there are  still concern about the issues of security and violence and attributed the mayhem that have been witnessed across the country in the pre election period "to unguarded statements by political leaders".
He also revealed that the Commission will release results of elections within 48 hours.
"We a re targeting 48hours.Nigeria is a very vast country but we expect the result to be collated and announced in 48hours"
—Oluokun Ayorinde/Abuja