Hundreds of women in the Lagos State chapter of the Action Congress of Nigeria, ACN, and other sympathisers of the party this morning gathered at the Blue Roof pavilion of the Lagos Television, Agidingbi, Lagos Southwest Nigeria, to throw their weight behind the candidatures of Mallam Nuhu Ribadu and Fola Adeola for the country's presidency.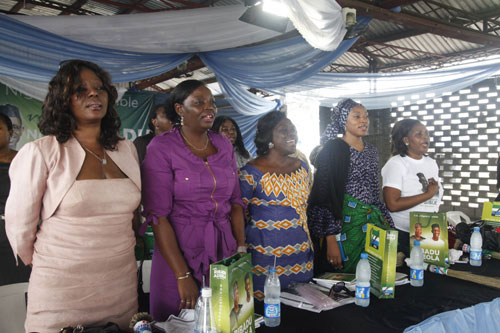 The forum was organised to bring together women in the state to support the ACN presidential team.
The women include Chief (Mrs.) Taiwo Taiwo, Mrs. Nuhu Ribadu, Mrs. Comfort Idika-Ogunye, Mrs. Nwuneli, Mrs. Hajara Adeola, popular Nollywood actress, Joke Silva, Mrs. Nuhu Ribadu and others.
Speaking with P.M.NEWS at the end of the programme, Silva said even though she had not met personally with Ribadu, she was impressed with his performance when he was the Chairman of the Economic and Financial Crimes Commission, EFCC, adding that all those she had come across in the country and abroad spoke well of him.
"Nuhu Ribadu performed brilliantly well as the EFCC boss. How many people can reject 15,000 dollars bribe? He is highly respected all over the world. A lot of people I have met spoke highly of him.
"I have met his vice presidential candidate, Mr. Fola Adeola and I can testify that he is a man of integrity and a sharp mind," Silva stated.
She called on women throughout the country to support Ribadu and Adeola to change the country's landscape for the better.
Silva explained that Nigeria will not thrive under one party, adding that the longer a party stays in power the more the tendency to become corrupt and dictatorial.
She called on women to emulate female heroes like Queen Amina of Zaria, Olufunmilayo Ransome-Kuti of Egbaland, Moremi of Yorubaland and Queen Idia of Benin, adding that their contributions to the development of their communities can never be forgotten.
"It's time we stopped hailing criminals and those who made it difficult for us to have functional education, health and infrastructure. The maternal mortality rate is currently on the rise and children and mothers are dying in their thousands. It's time to have a change. We cannot continue to vote for a party that had eroded our values.
"It's time to get back to the days of values when women were the gatekeepers of value. I am calling on women to support Governor Fashola and Ribadu in their political aspirations," she stated.

Load more