The Action Congress of Nigeria (ACN) has rejected Monday as the new date for the National Assembly election, which was postponed today (Saturday) due to the late arrival of the result collation sheet.
In a statement issued in Ilorin on Saturday by its National Publicity Secretary, Alhaji Lai Mohammed, the party also described the bungling of the National Assembly poll as a national calamity and an avoidable embarrassment, which will further expose Nigeria to ridicule in the comity of nations.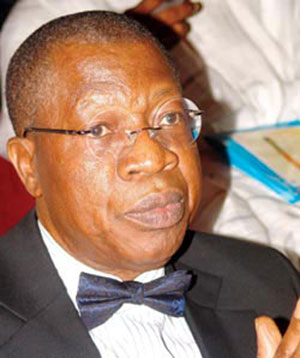 It suggested that the National Assembly election should be held on Saturday, April 9th, while the Presidential election can be postponed to the middle of the upper week, and the Governorship/State Assembly election can still be held on April 16th. "We reject this unilateral decision by INEC to fix the postponed National Assembly election for Monday. The new date does not give us enough time to re-mobilize our agents and put in place the necessary logistics.
The only day between Saturday and Monday is Sunday, when banks do not open. Where does he expect us to get the funds to mobilize our agents for Monday's election? Only the PDP can quickly mobilise such funds. So that date cannot stand, unless Jega is working against the opposition. "Also, the delay in the arrival and distribution of the result sheet is not the only thing that was wrong with the election today (Saturday).
There are many lapses on the part of INEC which cannot be rectified between now and Monday. For example, a voter at a polling booth in Lagos (Aboyade Cole/Manuwa polling booth) said the Labour Party was not on the ballot that was used there. This is an invitation to post-electoral litigation. "In Kwara, the number of ballot papers supplied was largely inadequate, meaning that many voters would have been disenfranchised if the election had not been postponed.
In several states, registered voters could not find their names onthe register. In fact, at polling booth 004 in Amuwo Odofin in Lagos, less than 50 of the 720 who registered there found their names. It is therefore necessary for INEC to rectify these problems!" ACN said. The party said Prof. Jega should take the reports from his field officials to know the exact problems with today's election, with a view to rectifying them, instead of rushing to fix a new, unrealistic date for the postponed election.
It also advised the INEC Chairman to look inwards in identifying the reason for the bungling of the National Assembly poll, reminding him of ACN's consistent warning that his integrity alone will not translate to credible polls, and that the commission stillharbours the rump of Maurice Iwu's mafia that ensured no election was successful during his (Iwu's) tenure.
ACN said while it appreciates Prof. Jega's candour in admitting INEC's shortcoming and took responsibility for it, that does not mitigate the fact that Nigerians have been embarrassed and their enthusiasm dampened by the commission's mis-step. "For instance, if the materials were supposed to have arrived on Thursday and they did not arrive, as Jega said, shouldn't INEC have saved Nigerians this huge embarrassment and wastage of scarce resources by postponing the poll, instead of cancelling it after it has started? " the party queried

Load more