Ahead tomorrow's re-scheduled National Assembly election, former President, Nigeria Bar Association, NBA, Rotimi Akeredolu, constitutional lawyer, Prof. Itse Sagay and eminent Nigerians have warned that the Independent National Electoral Commission, INEC has no excuse to fail Nigerians again tomorrow.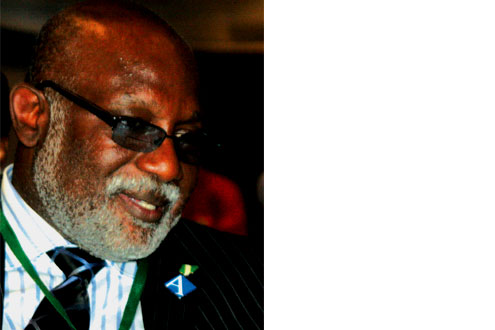 Speaking with P.M.NEWS this morning, Akeredolu said since INEC had a faulty start, one would expect that the commission should now be well prepared to conduct tomorrow's poll without any excuse.
He stated that INEC had one week to prepare and block all loopholes, adding that "I expect Nigerians to come out in their large numbers and vote and I expect things to go on smoothly.
"My only concern is in the area of security. The security apparatus is supposed to give support to the people and not act as government apparatus," he said.
Speaking, Sagay stated equivocally that INEC had no excuse to fail Nigerians again tomorrow, saying that failing again would be fatal and unacceptable to the entire populace.
"We saw the indulgence and understanding Nigerians gave to INEC and I expect things to go on smoothly. The issue of under-aged voters voting in the North last week which was shown on the television should be checked. We hope this will not happen tomorrow," he said.
Lagos lawyer, Comrade Bamidele Aturu added that INEC must do everything possible to ensure that people did not stuff the ballot boxes with fake ballot papers, urging the people to be vigilant and stay in the polling booths to see the counting of the ballot papers.
"We have given INEC all it needs to succeed; people are enthusiastic about voting and if INEC fails again, it should be held responsible. Nigerians should hold INEC responsible for its failure.
"We want free and fair election and nothing more than that. People should stay at the polling booths to see their vote being counted. As at now, INEC does not have the means to stop rigging," he stated.
Spokesman to the presidential candidate of the Congress of Progressive Change, CPC, Mr. Yinka Odumakin said he hoped INEC would have learnt its lesson and mistakes by now and put measures in place to checkmate flawed election.
"Jega should remove the mole in INEC. It should not fail again. We hope those sabotaging the operation of INEC should have been silenced by now or if anything goes wrong, we have the Egyptian, Tunisia experience still fresh in our mind," he stated.
Action Congress of Nigeria, ACN House of Representatives candidate under Epe Federal Constituency, Mr. Lanre Odubote warned that INEC did not have excuse to fail Nigerians this time around because the expectations of the people are high.
"Our expectation is that the ACN will win the polls. The elections should be free and fair. We should know that international organisations are involved in this and adequate security must be provided," he said.
According to former Governor of Kaduna State, Alhaji Balarabe Musa, the elections might not be free and fair going by INEC's move not to hold election in some constituencies in the country.
Founder, Coalition Against Corrupt Leaders, CACOL, Comrade Debo Adeniran said he expected INEC to be fully ready to conduct tomorrow's polls and should not allow anything to go wrong again.
"INEC must ensure that logistics are properly provided. We expect free and fair election tomorrow. There should be no excuse for failure. Even INEC had said that what it needed for the election had been provided, so, there should be no excuse.
Publicity Secretary, ACN, Lagos State, Mr. Joe Igbokwe said: "Jega is not a magician; he is a human being like us. The work to be done is huge and this is the reason we must help him to succeed.
"It is going to be a collective responsibility. Leaders' hands are always heavy and we need to lend a helping hand and while we are ready to help Jega and his team, they must show leadership.
"We are tired of excuses. We are tired of dashed hopes and promises not kept. Jega and his team must inspire confidence in Nigerians and show us direction. Nigeria must grow up this time."
Also, the prelate, Methodist Church Nigeira, Dr. Ola Makinde urged Nigerians to remain steadfast and optimistic about tomorrow's elections.
Makinde in a release made available by the Church's Media and Public Relations Officer, Reverend Oladapo Daramola said the electorate did not have to be weary or fatigued because of the events of the last few days; rather, they must remain steadfast and fired up for tomorrow's polls.
"The events of the last few days have no doubt left many Nigerians perturbed, worried and confused. The palpable tension in the air despite INEC's well articulated explanations is understandable based on past experiences which I must say leave much to be desired.
"But this is not the time to be apportioning blames or scoring political points. Rather, we should see the situation as a collective challenge that must be resolved collectively. The electorate must be motivated by the fact that this election will have a bearing on our collective destiny and our future.
"This is why I am pleading with everyone who is eligible to vote to go out there and exercise their franchise. We must all remain optimistic and give our support to the process because we cannot afford to get it wrong again," he said.
Makinde stressed that the electorate should not be fatigued but be charged up, knowing full well that the outcome of the polls was of huge interest to the entire world. He urged Christians and the generality of Nigerians to avail themselves of the Lenten season by continuing to pray for the electoral process, reminding everyone that it was not a mere coincidence that the two activities were coming at the same time.
He also called on the political class to desist from making inciting statements that could heat up the polity and derail the process which everybody is trying to redeem, adding that stamping out electoral violence, do-or-die politics and rigging from the nation's political life and national psyche was a duty of every Nigerian which must be accomplished to move forward as a nation.
—Kazeem Ugbodaga