The big joke was on former president Olusegun Obasanjo last night as it emerged that the opposition Action Congress of Nigeria had trounced candidates of his party, the PDP in parliamentary elections in Ogun State.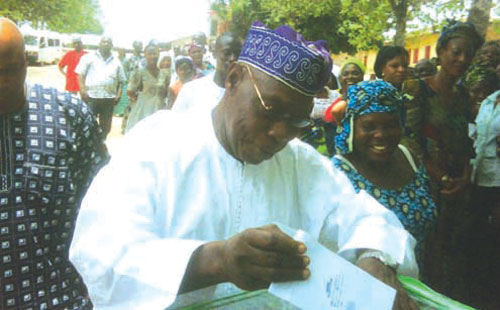 Obasanjo, the exponent of 'I dey laugh o', had his repertoire of laughter and sarcasm drying up, with his daughter, Iyabo Bello placing a distant second to the ACN candidate in the senatorial race.
As if he had an inkling of the turn of fates, Obasanjo had spoken around the theme of laughter when he voted at his polling unit in Abeokuta at 12:37p.m yesterday's election.
Asked to comment on the rescheduled polls. He said: "You can't say everything is a laughing matter the way I said 'I dey laugh o' because it is a serious matter now".
But he spoke too soon as he merely preempted the end of his mockery over the travails of his political opponents.
Last night, the wheel turned full circle, with Obasanjo's party losing to the ACN in Ogun State.
He got the taste of the new political change in his state at his polling booth, where the ACN candidate beat Iyabo by 194 votes to 85.
As observers said, the heavy trouncing is no longer a laughing matter.

Load more