Lagos State Governor, Mr Babatunde Fashola (SAN) on Monday appealed to all registered voters to come out and vote massively for the Action Congress of Nigeria (ACN) in the remaining elections.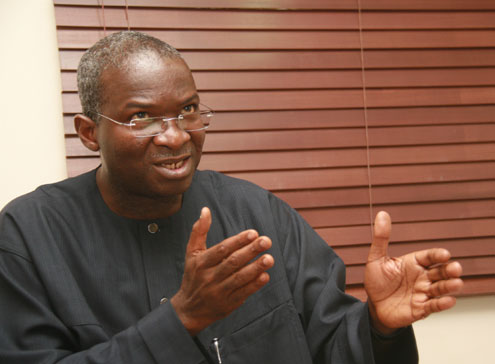 The Governor who spoke in an interview with Airport Correspondents at the Presidential Lounge of the Local Wing of the Murtala Mohammed Airport on his way to Abuja said the people need to participate more.
"This is a defining opportunity for choice and change. We need treble if not quadruple numbers that were delivered on Saturday. This is an opportunity to participate. If you miss it, you will wait for another four years and if you didn't participate you will be bound by what the few who decided have done.
"For me, free and fair election doesn't start and end with the Independent National Electoral Commission (INEC). A lot of it lies with us as a people and that is the connection with the first question.
"How many people participated? If you did not participate, how did you know if the process was free? The larger the turnout, the more difficult it was to manipulate result in your presence," the Governor added.
Governor Fashola said nothing was more delightful to him than watching citizens involved in the counting on television, saying it showed the inclusiveness of the process that INEC has brought up and the more people participate the more familiar they get with any hitches with the process which can be adjusted.
"Some experienced some difficulties, some did not go at all. Those who experienced it the first time, they go the second time and they will know how to adjust to it. And we hope those who did not participate in the first exercise will do so the second time."
Governor Fashola said for now, one can only adopt a stance of measured and cautious optimism until Nigeria gets to the end of the race. "It is not yet uhuru, so we must participate, INEC must work hard , improve on its processes and rectify mistakes. It is a continuing learning process.
"Our aircraft took off on Saturday, it has made a safe landing despite turbulence at the first airport. We are ready for the second take off now, we hope the second and third take off will be trouble free. It is after that that we can give ourselves a pat on the back," he explained.
Governor Fashola who also spoke on the impressive showings made by the ACN in the Senate and House of Representatives elections and what it has in store for Nigerians, said the party has a common plan that puts housing and agriculture at the forefront of its manifesto.
He said the manifesto of the ACN also includes free and sustainable education, preventive healthcare, empowerment of the vulnerable, integrated rural development which are all generic common social welfarism policies.
The Governor said the party has a very robust policy on agriculture and housing which are two critical sectors that will create large economies.
"If you look at the economy of Nigeria today, it is driven by the petroleum industry, banking sector and transport sector to an extent. You will see growth in the sector but not in agriculture and housing where mass number of people can be employed.
"That is the target. That is why when you add up all of the growth figures, it is always difficult to see micro impact because it doesn't spread round. But, when you have agriculture taking over, no country can industrialise without agriculture because every industry depends on certain raw materials to produce," the Governor explained.
Governor Fashola reiterated that agriculture cannot be improved by just supplying fertilisers but by guaranteeing payment of everything the farmers produce, adding that once that is done, it would become commercially viable.
"Once I know that I can sell what I produce, I can even go and borrow money to buy my fertiliser. We can pool into co-operatives to own a tractor. We know there is a guaranteed market, so what government should be doing therefore is to guarantee those price schemes through commodity boards."
He emphasised that those are the things that the ACN has thought and planned for and the more ACN-led government that is available at all levels, the quicker the country would feel relieved to get up on its feet and see economic prosperity that is real.

Load more