In a calculated bid to stem the dwindling fortunes of the Peoples Democratic Party in Katsina state, Governor Ibrahim Shema convoked an interactive session with Labour Unions in the state with a view to wooing the state's workforce to support his re election bid.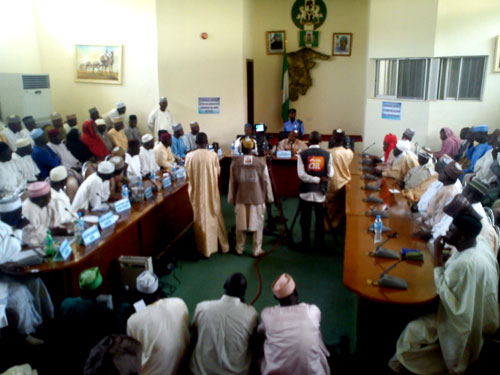 It would be recalled that the opposition Congress for Progressive Change, CPC, dealt a damaging blow to the ruling party at last Saturday's National Assembly election where it clinched the three senatorial seats in the state and twelve Federal Constituency seats out of the 14 Federal constituencies where the election took place.
Emerging from the shock of the electorates' disposition to ousting the Peoples Democratic Party from the governance of the state, Governor Shema whose re election bid is under threat readily acquiesced to the numerous requests presented to him by the workers body at the forum.
Unions represented at the forum include Nigeria Labour Congress, Nigeria Union of Pensioners, Judicial Workers Union, Nigerian Union of Teachers, Nigeria Civil Service Union, Union of Postal Communication Workers, Medical Health Workers Union, the Amalgamated Union and the Nigeria Union of Journalists in the state.
It was a bazaar of a sort as practically all requests made by the various unions were readily granted by the Governor whose main interest was to garner support to his re election bid.
Specifically, Governor Shema conceded to the implementation of the Consolidated Medical Salary Scheme which led to the embarking on strike by the state's medical health workers about four weeks ago. He also assured the health workers that the current flight being experienced in the health sector in the state will be drastically addressed with a view to stemming the tide of emigration by experienced workers in the sector.
Brand new buses were immediately given to the pensioners' union and NUPENG with a promise of increasing pensioners' monthly pensions to meet the ever increasing cost of living in the nation.
The NUJ summarily received some state owned buildings for their use as secretariat with promises of other largesse while the demands of the Teachers for special monetary allowances for science teachers. The Governor also promised to look into their request for immediate payment of gratuities to retiring staff and prompt payment of bereavement allowances to families of teachers and workers who died in active service.
However, the demand by the NLC for return of their members numbering 77, who were sacked in 2003 by the then administration of late former President Umaru Yar'Adua, over fraud related offences in the states' ministry of finance was cleverly evaded by the Governor. But he succumbed to the Labour Union's pressure and commuted their dismissal to retirement to enable the dismissed workers get terminal benefits.
It is however left to be seen if all the largess and promises of better days for the state workers will translate to votes for the embattled Governor who is fighting a battle of his political life in the state.
By Nnamdi Felix / Abuja

Load more