As the first anniversary of the passing away of beloved rapper Dagrin approaches, NET Newspapers Limited, publishers of Nigerian Entertainment Today (NET), have announced that it is instituting a memorial lecture in honour of the rapper who died on 22 April, 2010.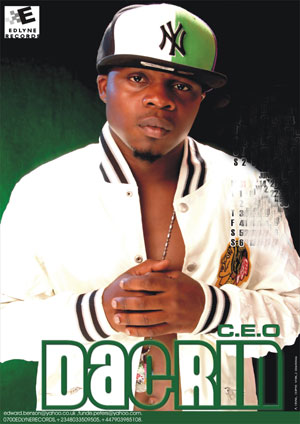 Ayeni Adekunle, publisher of the newspaper, said the reason for the memorial lecture is "obvious to us all."
"Dagrin died in very tragic circumstances. A young man who was full of life, very hard working and promising, had his life cut short in such a horrible manner. Could his death, just like that of CD John, Chidinma Mbalaso and many others, have been prevented"? Ayeni asked.
The memorial lecture, scheduled to hold at Protea Hotels in Ikeja GRA at a yet-to-be-announced date, will feature speakers from all relevant industries including security and safety; media, health and medicine, governance, entertainment, communication and management among others.
"We're working on getting relevant people from the FRSC, Police and Nigerian Medical Association as well as other bodies including representatives of musicians' union and music labels, to come and educate us all on what we need to know on pertinent health, safety, living, investment and other issues, using the tragic incident of Dagrin as case study," Ayeni said, adding, "it is our desire that our artistes and their minders will find important lessons from this lecture as well as all those who work within the entertainment industry. How many of us still sit behind the steering wheel and drive even when we've been drinking? How many have the relevant insurance? What can we do about hospital policy that makes it impossible for you to get even emergency treatment unless you
pay a deposit? Who benefits when you're dead? What's the role of the FRSC, state governments, Federal Government, Nigeria Police, PMAN, record labels and other institutions in all of these?"
Speakers and facilitators for the inaugural Dagrin Memorial Lecture will be announced in a few weeks.
Founded on 23 November, 2009, NET is Nigeria's fastest growing entertainment, youth, lifestyle and urbane culture journal, with an aim to provide accurate, up-to-the-minute information and entertainment to audiences wherever they are. It started off with a website www.thenetng.com.

Load more