Motunrayo Abiodun Orobiyi a.k.a. Ayofunwa Adunni, the leader of Adunni & Nefertiti Band, an all-female dance group and other members, spoke with P.M.Entertainment about the band and other issues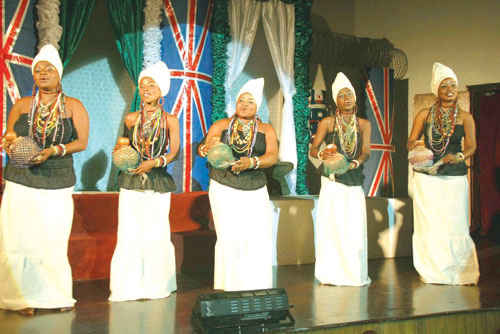 Who is Adunni?
Adunni is a very easy going and humble person, but if you push her to the wall, she may have to react. That is, if you want to take her for a granted, you might see the other side of her. Aside that, she is very coolheaded.
What did you study?
I read Theatre Arts in the University of Lagos.
How did you come into music?
It runs in the family. It's been in my blood, but to God be the glory, music is my passion, so I went for it.
How did you come about the name Nefertiti Girls?
It was the creation of my first manager, Toyin Ali-Balogun. I told him and my personal assistant, Mrs. Iyabo Payne, that I needed a name for the group about to be created and Toyin came up with the name Nefertiti while I made my personal research to be sure.
What then is the meaning of the name?
The beautiful one has come.
When was the band formed and why did you prefer an all-female group?
The group was founded between 2006 and 2007, so it is over five years now. And the reason behind an all-female group is that it is better to start from the scratch because there is this saying that charity begins at home. Because of this, I realised that the ladies involved will be mothers one day. So, it is better to start teaching them how to be responsible mothers, because nobody has done something like that before. We are the first to do such a thing.
What is the concept behind an all-female band?
The concept is to project African culture, its music and women through singing.
How do you recruit members?
It depends. If I see a talented young girl, I will invite her, provided she can show commitment. I do audition for a potential member and if I discover that she is gifted in terms of voice, she could be invited.
Did you start with these five?
No, I started with about six but some have gone while others have joined. It is on and off.
How do you treat them?
I carry everybody along.
What kind of instrument do you play?
We play shakers, that is, sekere, but men back us up with other musical instruments if we have a concert.
How then do you prepare for shows?
It depends on the event. Some do invite us for Acappella, while some want dancers and drums because we play a contemporary brand of music.
What is the strength of the band?
Our strength is in our voice, then the delivery. Our songs are not everyday songs, they are folk and indigenous songs.
How do you get your songs?
I compose songs and my members bring suggestions as well as other folk songs.
Why is your album not popular?
Well, it is not everywhere. You can only get it at Tera Kulture and because of piracy, we are very careful.
How expensive is the band?
We are not cheap. At times, we consider people and play charity shows as well.
You are paid in millions?
(Laughter).
How do you manage the band being an all-female stuff?
We are simple and understand one another and there are basic rules. What I don't want, they don't do. You know, respect is reciprocal. We have rules and regulations that guide us.
What are the rules?
No toasting. We are responsible ladies and not husband snatchers or call girls. We are also godfearing.
What if one of your fans admires one of your band members?
That will be after business.
If you get to know, what will you do?
I don't have business with the man but my ladies, because he is an outsider, the lady in question knows the rules and regulations.
What if the lady likes the guy?
If it is a serious relationship and not some guys trying to play games.
If I choose to be a polygamist, what is your business with that?
It is my business because it will give us a bad image.
So, the rule is all your girls must be single?
No, we have married women among us while some even have kids.
Are you married?
No, but I will get married before the end of the year.
How will you combine marriage with music?
It is about time management.
How did you meet your husband and who is he?
He is a private person and would not like his name mentioned.
Did you meet him on after a performance?
No.
When you go on stage, do people appreciate you with cash, I mean the money spraying culture?
Yes, they do.
What if a money bag pastes crisp notes on your chest or on those of any of the ladies, you know what I mean?
They don't.
But if it is big money?
Well, if it is big, then I should sell myself? No. In fact, my manager and PA will not allow that.
What about the girls?
I know they won't also.
What are other plans of the band?
To take it to greater height and practise what we preach in terms of morals.
How do we classify your music?
Folk and spiritual music. I am a theatre arts practitioner and I do that once in a while.
Who discovered you?
Nobody. The music has been in me since my school days, but when I came out of school, it became strong. So, I decided to do it because of my decision not to be an applicant.
So you decided to go into music because of lack of job?
No, that is not true.
Who have you worked with?
I have worked with Demola Olota as lead singer and chanter.
How has it been since five years ago?
It has been a mixture of ups and downs.
What are the ups and downs?
It has not been easy. At times, people don't want to pay, but if they call D'banj, they know how much they pay. Nigerians don't want to pay.
Have you been sexual harassed?
No.
Is yours the only all-female group?
Yes, I have not seen another one yet.
Will you encourage more?
Yes, so that they can tap from the anointing.
Babra:
Let's know more about you and your role in the band?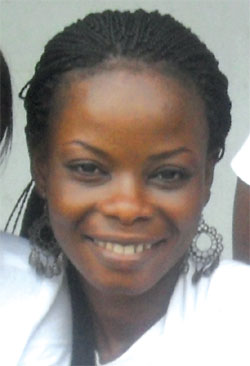 I am Babra Babarinsa a.k.a. Iyaniwura. I am a singer.
Which note do you sing?
I sing the alto part.
How did you join the band?
Adunni invited me. I have always been doing stage plays but after watching her perform, I loved her voice and delivery. I have always wanted to join a group because I never knew I could sing folk songs but after watching her during a stage production, I loved her, went to meet her and she later invited me.
What is your discipline?
I am Theatre Arts graduate of the University of Lagos.
When did you graduate?
Last year.
When did you join the band?
Last year.
Have you made money from the band?
It is a means of livelihood.
What future do you foresee for the band?
It will be a world class band.
What attracted you to the band?
I love an all-female group because of the cultural background.
Where do you hail from?
Ota, Ogun State.
Are you influenced by the masquerade culture of the Ota people?
I never had the opportunity of studying that because I did not grow up there, but when I saw Adunni & Nefertiti, I realised I will have the opportunity to practise what I learnt in school.
But there is not so much money in the band, how will you cope?
As a theatre arts practitioner, nobody can pay you, but you can only be appreciated.
Is there any part of your contract that says you can go solo?
Yes, we can if we want to.
How old are you?
I am 23 years old.
Abike:
Tell us about yourself
I am Folashade Deborah Orobiyi a.k.a. Abike.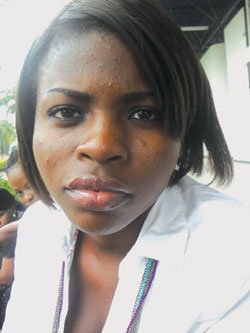 Who gave you that name?
You know that we are from different backgrounds and this reflects in our names.
Where are you from?
I am from Yewa North in Ogun State.
What did you study?
Creative Arts.
Where?
University of Lagos. I am in the second year.
How old are you?
I am an adult.
What role do you play in the band?
I sing soprano.
Can you play any musical instrument?
I play sekere.
Are you aware of the law in the band that bars you from following a man during shows?
Oh yes, but after the show, you can do whatever you like.
But if your boyfriend needs your attention urgently and you are billed to play with the band, what will you do?
My boyfriend understands the nature of my job and so, he will not disturb me when I am on duty.
What other plans do you have apart from being a member of the band?
I am a Creative Arts student, so, I wish to learn more and brush up my skill in acting.
Mausi:
What is your full name?
I am Yetunde Mausi Whesu-Balogun.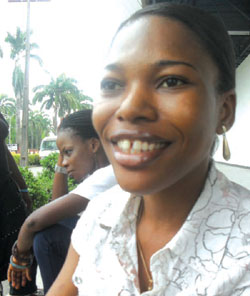 Where are you from?
I am from Ajido in Badagry area of Lagos State.
How relevant is your tradition to the group?
We are Egun from Lagos State and we also have our culture too.
Are you also a student?
Yes, Creative Arts student of the University of Lagos. I am in part two.
Are you married?
Yes, I am and have a child, a baby girl, just a few months old.
How do you cope breast-feeding a child and still attending shows?
By God's grace, she stays at home while I go for shows.
Don't you think you will be denying your baby breast-feeding while performing?
No, we have time for everything. At least, she will not be sucking every minute or hour.
How does your husband see your association with the group?
Well, he feels indifferent because I was in the group before I met him and got married, so he is okay by it.
Did you meet him at one of those parties?
No, not at any of our shows. I met him on a different platform.
What does he do for a living?
He is into insurance business.
How long have you been in the group?
I have been in the group for a long time.
As one of the longest serving members of the group, what happens if you get a better offer from another group?
I am comfortable with the group because we behave like one family. It is not about somebody bossing you around and there is no secret in the relationship among the band members.
Stella:
Who am I speaking with?
My name is Stella Abedaego Ekenna.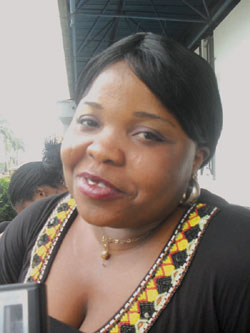 Your native name?
I am Ekenna, so I don't know any other name. It means this is mine.
Where are you from?
I am from Delta State.
When did you join the group?
I joined a few months ago. I am the youngest in the group.
Are you married?
No, I'm a single parent of a baby boy.
Out of wedlock, why?
It is the Lord's doing.
How old is your child?
He is one year and nine months old.
How then do you take care of the child?
It is the Lord's doing.
If your son wants to join an all-male band, will you allow him?
Yes, although when I wanted to start dancing, my parents did not allow me, now, they have no choice than to allow me. My dad has taken me for what I am.
What did you study?
I studied Dancing from a private school and hope to go for further studies some day.
How has it been?
It has not been easy because I told you earlier that I am a single mother, but with God, I have been coping.
Any plan to remarry?
Not for now, I want to be focused.
Ohiri:
Can we meet you?
I am Ohiri-Deborah Oluwamayowa Ufua.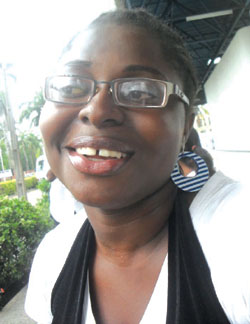 Where are you from?
I am from Irua in Edo State.
When last did you visit Irua?
When I was very young.
How did you join the group?
I saw Adunni and the group on television dancing and something told me I could work with the band, although we were unable to meet until I went for a programme at Tera Kulture where I was introduced to her by a guy who was in charge of the show and I went for audition. Later, I joined the group.
Did you study Creative Arts like others?
No, Science Laboratory Technology from Yaba College of Technology.
How old are you?
I am in my early 20s.
What is the link between science and dancing?
Music flows in my family because my dad is the late Bob Ohiri, one of King Sunny Ade's guitarists. So, when I told him about my ambition, he encouraged me.
How long have you been in the band?
I joined five years ago.
How has it been?
It has been hectic, but I do cope combining lectures and work. I thank God because that is part of what we were taught as a woman, to manage our time well. Apart from singing, we were taught moral values and that goes a long way in assisting us in whatever we do.
How do you cope with guys at shows?
Like I told you, we have morals and Nefertiti taught this too.

Load more