An SS1 student of Community High School, Ilasamaja, near Mushin, Lagos State, Southwest Nigeria, Adedeji Odumade, has allegedly stabbed his rival, Muritala Babajide Akeju, 20, to death.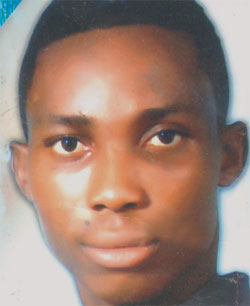 The victim and the assailant were said to be dating the same girl simply identified as Sinata.
P.M.NEWS learnt that the late Muritala had completed his secondary education at Naiwar-Ud-Deen Grammar School, Surulere, Lagos State about two years ago. But last year he re-enrolled at Community High School, Ilasamaja, where he met Sinata who was also a girlfriend to Adedeji.
It was gathered that the late Muritala was sleeping at his parents' residence at 15 Amodu Street, Itire on Friday when the assailant sent his friend Qudus Ahmed to wake and trick him to come to Ilasamaja.
During a scuffle at the school's playground, Adedeji reportedly stabbed Muritala on the chest, removed the knife and escaped.
The victim was rushed to a nearby hospital where he died before he could receive medical attention.
The corpse was later taken to Isolo General Hospital morgue for autopsy.
P.M.NEWS learnt that the lady at the centre of the controversy, Sinata and Ahmed have been arrested and detained at Olosan Police Station, Mushin.
Adedeji's mother was also arrested but was later released on bail.
When P.M.NEWS visited the bereaved family at their residence, Muritala's mother, Mrs. Kemi Akeju was too devastated and shocked to speak.
The victim's father, Mr. Ahmed Adewale Akeju, a civil servant with the Lagos State government expressed his shock over the incident.
Mr.Akeju pleaded that justice should be done on the matter, though the assailant was still at large when he spoke with our correspondent.
Some students of the school this morning confirmed the incident. The principal was not available. The vice-principal, Mr. A. O. Olugoke declined to comment
A female teacher who spoke on condition of anonymity also confirmed the incident.
Contacted this morning, the Lagos State Police Command Public Relations Officer, PPRO, DSP, Samuel Jinaidu, asked for more time to liaise with the DPO of the station where the matter was reported.
—Moyo Fabiyi/Dedeigbo Ayodeji

Load more