Results of votes cast at the Kabala ward 05 in Kaduna, the polling Unit of Vice President, Namadi Sambo shows that the PDP continues to loose grip of power in the state.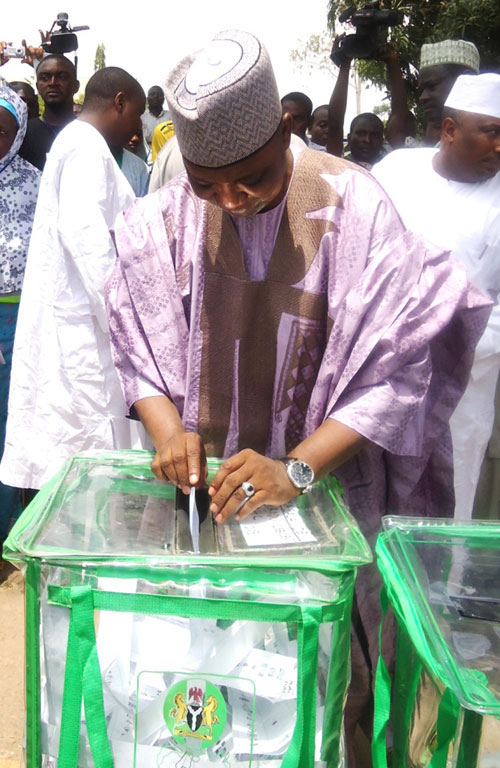 The result announced by the polling unit officer at the Camp Road Polling unit, Kabala Doki, Kaduna, shows that the Congress for Progressive Change CPC, which has Gen, Muhammadu Buhari as its Presidential candidate scored 435 votes. President Jonathan/Sambo of the Peoples Democratic Party, PDP secured 208 votes, while all the other political parties scored 13. This was the result of the polling unit where the Vice President, Arc. Namadi Sambo voted, his home and resident just a stone throw away.
The result at Gubarau Road Polling unit 041, showed that the CPC scored 396 while the PDP got 136 votes. At the Gamji Masalachi Polling unit, the CPC won 305 votes, followed by the PDP with 99. At the Gamji inside gate polling unit, CPC scored 442 and the PDP 112. But, it was different issue at the Fadan Kagoma Primary School polling unit, in Jema' Local Government Area polling unit where Gov. Patrick Yakowa comes from. There the PDP scored 1,482 votes against the CPC's 23. The total result from Kagoma ward, showed that the PDP scored 14,204 votes, while the PDP scored 503. All the other parties had 82 votes.
The announcement of the result ignited a wide jubilation by the crowd that was present at the unit, and who apparently were determined to defend their votes. The result of the election and the ensuing jubilation is believed was aimed at humiliating the Vice President who residents hinted is not liked at home. Sambo was the Governor of the State from May 2007 to May, 2010. At the last National Assembly elections, the VP was also comprehensively defeated from his pollong unit to the senatorial district.
By Desmond Utomwen/Kaduna

Load more