Christians all the world today marked Palm Sunday, the day Jesus Christ rode into the city of Jerusalem.
Catholics, the Anglican Communion and Pentecostal churches this morning marked the beginning of the holy week leading to the crucifixion of Jesus Christ.
In Lagos State, southwest Nigeria and in other parts of the country, Catholic faithful were seen carrying palm fronds to their various worship centres.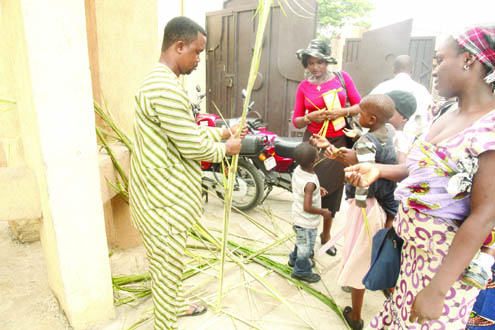 In a special Palm Sunday mass at the Vatican yesterday, Pope Benedict XVI, demanded the European Union and African nations to take urgent action to stop the trafficking of migrants. He added that the global economic crisis was driving the poor to make dangerous voyages.
He recalled the drowning last week of 200 Europe-bound Africans whose overcrowded boat capsized off the coast of Libya.
Speaking in front of thousands of pilgrims at St. Peter's Square, Vatican City, he said: "We can't resign ourselves to tragedies like this that unfortunately have been occurring for some time.
"The dimensions of the phenomenon make it increasingly urgent that strategies coordinated between the European Union and African states, just like adequate measures of a humanitarian nature, are taken to prevent migrants from turning to unscrupulous traffickers.'
Benedict made his appeal after leading a procession of cardinals and bishops at the start of celebrations. Palm Sunday marks the beginning of the Holy Week for some Christians.
The celebration of Palm Sunday originated in the Jerusalem church, around the late fourth century. It originally consisted largely of prayers, hymns and sermons recited by clergies. Parishioners would walk through the city of Jerusalem, visiting the holy sites and making a final stop at the place where Christ ascended into heaven.
There, priests would read from the gospels of the Bible. At twilight, all would return to the city; children carrying palm branches reminiscent of the ones lining Jesus' own way as he re-entered Jerusalem before his death.
As the observance of Palm Sunday evolved and spread, new services were incorporated. Eventually, traditions such as the ritual blessing of the palms and a morning processional replaced some of the earlier observances.
— Ufforth Shallom

Load more