After violence broke out in major areas of Kaduna today over anger on announced elections results in the state, Kaduna State government has declared a 24 hour curfew on the state.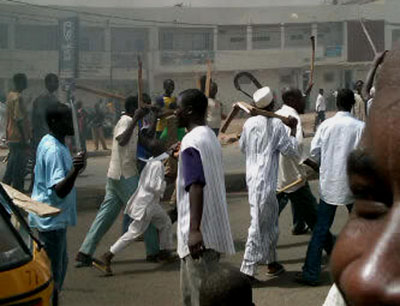 P.M.News gathered that tension started brewing after the presidential polls results announced did not show that CPC won landslide in the state
Some residents in the affected Tudun Wada , Rigasa , Ungwar Muazu and Kabala West areas told P.M.News on phone that some aggrieved muslim youths took to street yesterday night at 9pm to protest the presidential polls results declared in the state by INEC returning officer.
According to a journalist resident in Rigasa where the violence first started, the youth were unhappy that the CPC presidential candidate,Gen. Muhammadu Buhari did not win Kaduna with wide margin, so in protest they mobilised for cancellation of the results.
He said as they burn houses, they go about chanting in hausa "Sai Buhari, Sai Mai gaskia" meaning it is Buhari , we want the truthful one.
Eye witnesses who also spoke on phone said the angry Rigasa CPC youth alleged massive rigging by the ruling party PDP and were hell bent on punishing anyone identified to be associated with PDP , thus the burning of their houses and business premises .
However, as the news filtered to Christian dominated southern part of the state this morning at about 7am , the youth in Barnawa, Kakuri, Narayi , Sabon-Tasha and Ungwar Television areas trooped out in retaliation of the rumoured killings and burning of houses. Consequently, they burnt all mosques and business premises identified as a Hausa property.
The destruction of property continued till about 10am when the state government gave order to the military to take over and restore peace .
Meanwhile to contain further spread of the crisis , a 24 hour curfew has been imposed with a shoot-at-sight order to the soldiers.
As at the time of filing this report, it was yet to be confirmed whether lives were lost. But it was confirmed that many mosques were burnt down in Barnawa, Narayi-Highcost and Sabon-Tasha.
By Femi Adi

Load more