After about two days of fits of madness resulting in arson and murder following Saturday's presidential election won by President Jonathan Goodluck, calm has returned to troubled states in Northern Nigeria.
P.M.NEWS correspondents across the Northern states reported this morning that wanton vandalisation of properties, killing and maiming of political opponents especially stalwarts of the ruling Peoples Democratic Party, PDP, witnessed in certain areas since Sunday have abated after the intervention of security forces.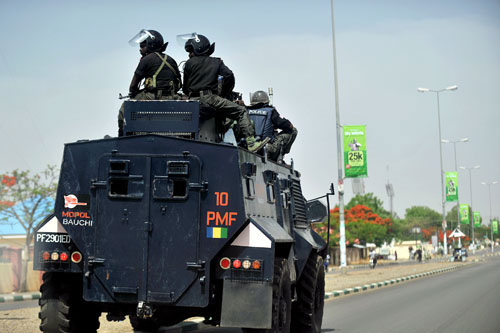 From Kano State, our correspondent reported that soldiers and policemen were still patrolling the streets after they succeeded in bringing the situation under control.
However, there was tension and palpable fear that the miscreants might strike again. Residents of Sabongari area of Kano stayed awake all night because of a red alert that the attackers were coming last night.
Reports said the leader of a whistle blowing vigilance group invited all residents outside their houses, thus making the people to remain jittery.
Economic activities have been paralysed as a result of the two-day rage. Banks, shops and markets remain closed.
The popular Abubakar Rimi market in Sabongari-Kano and Kofawa market also closed.
Sabongari area of Kano has been over-populated because it is a place the miscreants cannot penetrate. Other residents rushed to the area for safety because it is predominantly a non-indigene area.
The closure of markets has raised the prices of goods especially consumable items. For example a sachet of water this morning sold for N10 instead of N5. And because of the absence of Mairuwa or the local water vendors, a gallon of water hitherto sold for N40 now attracts between N50 and N60.
Corps members continue to take refuge in police stations and military barracks while those serving on the outskirts of Kano who managed to escape to Sabongari are marooned there.
The motor parks, especially the inter state parks, were empty. No luxury buses went out or entered Kano since the crisis erupted. A luxury bus that attempted to enter the city yesterday was vandalised. There was no travelling either by rail or air since yesterday.
Similarly, peace has returned to Bauchi, Taraba and Adamawa states. Soldiers, policemen and other security personnel were seen this morning patrolling the streets of Adamawa state. There is no report of breakdown of law and order.
The dusk to dawn curfew imposed on Adamawa state by Governor Murtala Nyako is still in force, though our correspondent reported that all was calm in the state this morning.
Jos, the Plateau State capital was peaceful this morning. P.M.NEWS correspondent reported that some youths attempted to protest the result of the election yesterday but soldiers succeeded in calming them down within a few minutes. The tin-city has since remained peaceful.
Also from Kaduna, the Kaduna State capital came the report that peace has returned after the post-election mayhem. There was no vehicular movement this morning while the 24-hour curfew imposed on the state has remained in force.
Even as the 6 p.m to 6 a.m curfew imposed on Katsina State remained effective this morning, heavy presence of security agents like a detachment of the Army, State Security Services personnel, SSS, the police and mobile policemen were seen in Katsina, Malumfashi and Daura, the home town of the protesters' favourite candidate and standard bearer of the Congress for Progressive Change, CPC, General Muhammadu Buhari.
The security agents were able to curtail the pockets of violence in Katsina, the state capital yesterday.
Meanwhile, dozens of Lagos and East-bound travellers took refuge at the Armoured Barracks in Bauchi yesterday following widespread violence across northern Nigeria.
The chaos that followed aborted the journey of those coming to the southern part of the country, with many taking refuge in the army barracks to avoid being attacked by the mob.
According to our correspondent who went to cover the presidential election in Borno State and was returning to Lagos State, "after leaving Maiduguri yesterday morning, most of the vehicles bound for other states returned to a spot just after Damaturu. The bus in which I and other passengers were in was stoned till some windows cracked just after Damaturu.
Six luxury buses that had left Maiduguri in the morning returned to where we were stuck in our bus after Damaturu. Altogether we got in touch with the Potiskum Barracks from where eight soldiers in two trucks were sent to be at our front and back to pass through Bauchi to get to Jos. Eventually, after the two- hour journey to Bauchi with dusk approaching, the soldiers steered us into the Bauchi Barracks to stay till dawn.
"Already families in transit were going about doing chores like refugees. They formed a queue to fetch and drink tap water overnight and sleeping on the dry grass in the barracks. The hope for all is to leave this crisis ridden area by dawn with military escort. And if Jos ends up not being equally volatile by morning (today) we may be able to proceed to safer territory to get to Lagos."
This morning he and the other travellers were still at the Armoured Barracks in Bauchi awaiting further instructions from security personnel, who have taken control of the situation.
—Femi Ade/Kaduna, Maduabuchi NmeribeH/Kano, Ben Adaji/Jalingo, Nnamdi Felix/Katsina & Funsho Balogun/Bauchi

Load more