Governor Chibuike Rotimi Amaechi of Rivers State has condemned the call made by Celestine Omehia, the APGA governorship candidate that the governorship election be cancelled for an alleged insecurity throughout the state.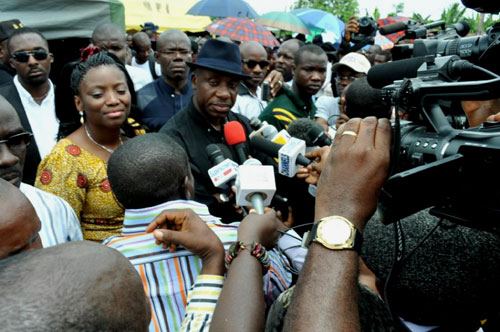 Amaechi said as the Chief Security Officer State, he was adequately briefed about the security situation in the state and that he was not informed that any violence in some parts of the state was not weighty enough to warrant any cancellation of the election.
On the threat by Omehia that he would be heading to the courts to challenge the election if the election was not cancelled, the Governor said the court was a familiar turf. He described Omehia's threat as that of a man who was ill-prepared for the polls and was sensing defeat.
Omehia had called for the cancellation of the entire election which he claimed was marred by insecurity when he spoke with a cross section of the press at Ubima, Ward 8 Unit 15, Ikwerre local Government local area of the state even when voting had not started
Amaechi on his part expressed satisfaction with the huge turnout of voters and the transparent manner in which the elections were conducted in the state. He spoke after casting his vote, along with his wife Judith, at 12.40pm, in Ward eight, Unit 14, Ubima, his home town, in Ikwerre Local Government area.
Dr. Abiye Sekibo, the ACN candidate also commended the peaceful conduct of the election and the strict adherence to the rules at least in his Unit in Okrika, Okrika Local Government area of the state.
By Okafor Ofiebor/Port Harcourt

Load more