Sahr Ngaujah, the 34-year old leader of the cast of the Broadway musical group, speaks about Fela! show and other issues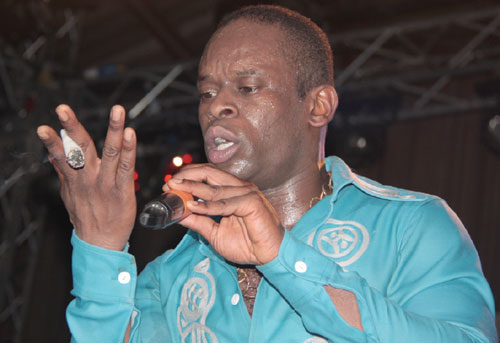 How do you feel playing the character of Fela?
I feel great. I feel wonderful.
Who is Sahr?
Sahr is a young man from Sierra Leone but my mother is from the United States of America and I grew up in the States from where I moved to Europe and lived in Amsterdam for almost 10 years. I left there to come to New York to appear in the show of Fela!
Why Fela and not someone else?
I have always loved Fela, but I did not choose the role. I was invited for the show to read the script, I read it and liked it. I was then asked to work with them and develop more materials. That was how we started. It was about six years ago.
What were you doing before then?
I have always loved to research but I read Performing Arts in the high school and began to work at a very young age with great directors. I did a Theatre course in Amsterdam.
How do you feel playing the role of Fela in Nigeria for the first time?
I am overwhelmed with the spirit of happiness and joy.
Did you meet Fela before he died?
No, I was unfortunate not to meet Fela when he was alive but I have been listening to his music when I was a kid because my father was always playing his music although I did not know much about him until I started working on this project.
Is this your first time in Nigeria?
I have been coming to Africa but this is my first time in Nigeria.
Fela! On the Broadway has taken you to a lot of places, what are the challenges?
There have been more ups than downs. The show in new York was wonderful. I have been to London, met with new cast. Now, I'm working in Nigeria and the show was amazing.
How were you able to play the role well?
Well, what you see has to do with lots of research that I have involved myself in over the years. Watching lots of documentaries, working on his footage, listening to him talk, reading books about Fela and listening to his family, among other things.
How do you prepare for the show?
It depends on the show. At times, two months, but I have come to realise that each time one gets together to do a show, it gets better.
Do you take any stimulant before going on stage?
No, what I take is vitamins and minerals. I take chlorophyl which is coming from plant, natural products that help my blood 'oxygenate' better. I also exercise and run a lot. At times, I run six miles three to four times in a week. I train a lot.
How about the choreography aspect of it?
I do a movement break, as a choreographer and actor, I find it interesting to engage in same.
The show was like a documentary, so were you able to blend all the elements into it?
It takes a lot of painstaking decision, working and it takes time and decision on how to blend the show, cramming and make people see Fela in the show.
Which aspect of Fela's life do you take?
None.
So you don't smoke or womanise?
No, I am married and have one wife.

Load more