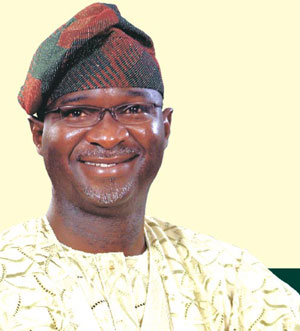 Lagos State Governor, Mr. Babatunde Fashola (SAN) on Friday received the City People Magazine Awards of the Governor of the Year 2010 in Nigeria and the most outstanding Governor in the South West for 2010, restating his commitment to continue to surpass what he has achieved.
The governor who spoke at Lagos House, Ikeja when he was presented with the awards by a team from City People led by its Publisher and Editor-in-Chief, Mr Seye Kehinde, added that the awards were a call to do more.
"We have always said the only reward for hard work is more work. We pledge our commitment to continue to surpass ourselves, do more, aim higher," the governor said.
Continuing, Governor Fashola declared: "We will challenge ourselves away from complacency and redundancy. We will work harder than the last four years. We will run as hard as we have done in the last four years. We will count on everybody to make the efforts fulfilling and rewarding for everybody."
He expressed his sympathy for the publishers of City People Magazine over the fire incident which disrupted the award ceremony during which the awards would have been presented and thanked God that the State Fire Service responded quickly and there was no fatality.
"We sympathise and hope you will renew and bounce back from that setback. We will continuously give our support for the good work you have done by promoting development and entrepreneurship and creating jobs.
"We must commend your organisation for believing in the Nigerian spirit and providing hope for a generation that if you can think about it, your hand can achieve it," the governor added.
Governor Fashola said he is accepting the award on behalf of his colleagues in the cabinet, the government, his party, public servants and all those who serve the people in diverse capacities.
"Those who maintain security, those who sweep the streets and get things done. This is their award, without them there would be no award to me or the state. On their behalf I say thank you," the governor explained.
"In spite of the unfortunate fire incident, it seemed that the timing of the presentation of the award has been deliberately ordered by the owner of time to come after the people of Lagos have spoken through a resounding mandate that expressed their confidence in the government that the administration has run.
"I accept the Awards as a fitting recognition for what the number of Lagosians who served with me have done," he added.
Earlier, the Publisher of City People magazine had congratulated the Governor for his victory at the polls and for winning two awards at the recently held City people's awards.He said Governor Fashola represents what leadership should be about.Mr Seye Kehinde later presented the two plaques stating the awards to the Governor at the ceremony which was also witnessed by the Permanent Secretary, Lagos Television, Mr Lekan Ogunbanwo, General Manager of Radio Lagos, Eko FM, Mrs Tinu Aina- Badejo, Senior Special Assistant on Media, Mr Hakeem Bello and Editors of the City People Magazine

Load more