Former governor of Ogun State, Aremo Segun Osoba, has vowed never to have anything to do with former president, Olusegun Obasanjo. He also said he would never have a hand shake with the Ota farmer.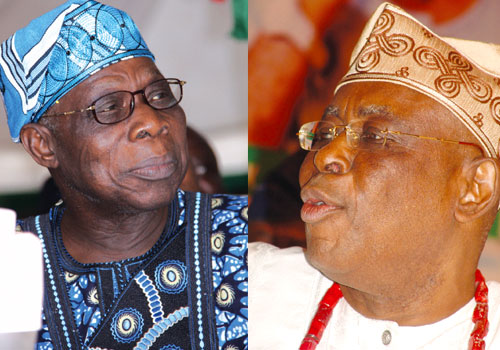 Osoba, who spoke during an interview published in the current edition of TheNEWS magazine however said if he happened to meet outgoing governor Gbenga Daniel, he would shake hands with him because the embattled governor "is down and out" and should not be kicked further.
According to the Action Congress of Nigeria stalwart, he was not thrilled by the party's victory against Obasanjo, because God had answered his prayers that all those who committed perfidy against the Yoruba people would be answered at the appripriate time.
Osoba said he had only met Obasanjo once since 2003 when the latter betrayed the Yoruba people.
"The only occasion where we met was at the church service for the late Justice Ejiwunmi of the Supreme Court and he got the judgement of the people on that day too.
"The ovation that we – Governor Fashola, myself and others – got when we were introduced reverberated round Lagos Island, but there was dead silence when Obasanjo's name was mentioned. That was the only occasion where we met," he said.
When asked if he would shake hands with Obasanjo if they both met by chance, Osoba said: "God forbid! I will not shake hands with Obasanjo because he won't shake hands with me. If he pops his hands out, I will behave the way he will behave by not shaking his hand."
Osoba said with the ACN taking over the south western part of the country, the development of the region would become easier.
He said the party had met with the governors-elect and has asked them to create a blue-print for the development of the entire south-west.
He also said the Lagos Ogun Mega City Development Authority which he started with former governor of Lagos, Bola Tinubu, but which was stopped by governor Daniel would be revived.
On how the party lost the south-West in the presidential election, Osoba said the ACN actually lost control of the electorate at that stage as they decided to vote for President Goodluck Jonathan for reasons other than his competence and capability.
"Since President Jonathan went to the Redemption camp to kneel before Pastor Adeboye, there were ripples in the Christian community, which became a problem for us to control. We lost our votes for that singular event," he said.
—Eromosele Ebhomele
Load more