Ex-militants who are graduates of the Rivers State Social Rehabilitation Institute, Okehi, Etche Local Government area on Friday stormed Government House, Port Harcourt, in protest against unfair treatment being meted out to the second batch of the graduates of the institute.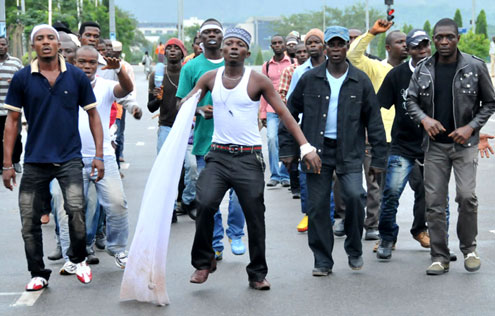 The ex-militants who had hoped to table their grievances before Governor Chibuike Amaechi were received by Mr. Oguru Fortune Oguru, the Permanent Secretary, Government House, who stood in for the governor.
He assured the graduates that the government will continue to carry out its responsibility to ex-militants undergoing rehabilitation.
The State Governor, Chibuike Amaechi gave the assurance today while addressing some aggrieved graduates of the institute in Port Harcourt.
The governor explained that the rehabilitation of the repentant militants was part of government's measure aimed at promoting peace in the state, stressing that government was prepared to contribute its quota towards achieving the much desired peace.
The Rivers State Government, he said, "was the first to initiate a detailed rehabilitation plan for the ex-militants and with your cooperation there is peace in Rivers State".
He enjoined the aggrieved ex-militants that their complaints would be looked into while appealing to them to be of good conduct as people who have benefitted from quality training programmes.
Earlier, the leader of the group, Benjamin Anyakwor said they were in Government House to protest the unfair treatment meted to the second batch of trainees at the Social Rehabilitation Institute, Okehi.
He admitted that in course of the training, the ex-militants were exposed to different trainings and skills but pleaded that the governor should intervene in the matter by directing the authorities to pay them their outstanding entitlements.
By Okafor Ofiebor/Port Harcourt
Load more