Elder Moses Olaya Adejumo ( MON) a.k.a. Baba Sala, a renowned comedian, spoke with about abandonment by professional colleagues, his foray into entertainment industry, relationship with King of World Beat, Otunba Sunday Ishola Adeniyi Adegeye a.k.a. Sunny Ade and other issues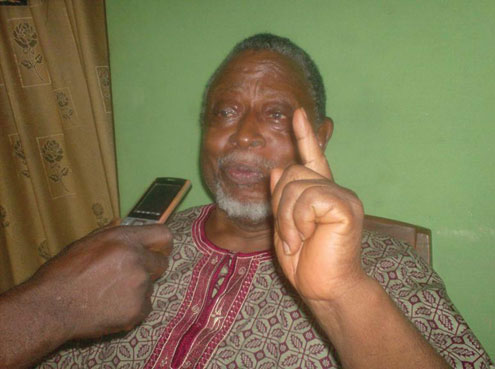 Where have you been all this while?
I am alive. Some people think that I am dead, but I am not. I am in Nigeria. I did not go anywhere. I am in Ilesa in Osun State.
How has life been treating you?
God is providing for me. Currently, I manage a Seraphim and Cherubim church in Idasa, Ilesa. I work for God and what I get, I eat with.
What has old age stopped you from doing?
I was acting, but time and technology have affected me. I cannot cope with new trends because I am old. I no longer act.
Is it only acting that old age has taken from you?
Acting has moved forward compared to when I was acting. You journalists prefer new things and abandon old things.
Why did stage plays die out?
Time and technology. During our time, stage plays were very lucrative. But with the emergence of video in Nigeria, stage plays became outdated. Stage actors also became outdated. With video recorders at home, films can be watched at home.
Is the money you realise from the church enough to take care of you?
I have a small hotel and my children are helping me.
Do actors and actresses come to visit you?
They have abandoned me. They don't bother about what happens to me. Even those that I trained abandoned me but I thank God that they are all doing well.
How do you think we can bring back stage plays?
Except the government provides an enabling environment, stage plays are as good as dead. Lagos State tried to revive them by introducing open theatre that is affordable. Those of us who performed at the National Theatre were made to collect something like N20. Government was monitoring it. They would collect the money from people and give it to us without removing anything. Then, we made as much as N4,000. Theatre artists did not need to pay government anything. But today, you have to spend money on adverts, pay local government authorities. You also have to pay local councils money before they can allow you to paste your posters. All the government does today is to collect money from people without corresponding benefits.
What was your relationship with the late Chief Obafemi Awolowo?
We met when I was acting. He liked my stage plays and severally, he invited me to his hometown, Ikenne, to perform for him. Prior to that, he came to my house looking for me, but I was not around and he left his card. He wrote a note on the back of the card asking me to see him whenever I returned. People were very surprised that Awo came to my house. Immediately I returned and I was given his message, I went to see him in his house and he was surprised to see a young man. He said he did not believe that I was Baba Sala because the Baba Sala he knew was very old. I told him that I made up as old man in my plays. He then asked me to go and bring Amuda who was Lamidi Aregomu. After that he believed me and we started our friendship. Every Wednesday, he would close early from work and invite his friends, including Lateef Jakande and Onitiri, to watch my plays. Through this, I became close to his personal staff. I always made him the chairman whenever I had shows at Glover Hall. I attended his mother's funeral and one of his birthday ceremonies with the late Hubert Ogunde, Professor Peller. Awo gave me the grace and opportunity to produce a film. At that time, you could not produce film except you got a loan from the bank. Awo asked me who my bankers were and I told him. He urged me to change to his bank, National Bank of Nigeria, where he could assist me to get money. I had to transfer all my money to National Bank. He then introduced me to the bank manager, who was of great assistance. When I approached the bank for a N500, 000 loan, I was asked for a collateral. I gave them the documents of my three houses, but they said that I could not get more than N200, 000 with my collateral. At this point, my helper, J.M.J Johnson of National Council of Nigeria and the Cameroons, later known as National Council of Nigerian Citizens, NCNC, came in. He really helped me. Because he wanted me to produce a film, he had to give me documents of his three houses in Lagos to add to the three I had. So I took documents of six houses as collateral to the bank and they gave me the N500, 000, which I used to produce Orun Mooru. He begged me not to allow the money to go down the drain. But less than six months after I started showing the film in cinemas, a younger brother to my wife connived with my operator to steal the film and gave it to Kamorudeen, alias Kamil, who owned a cinema house in Maryland, Lagos.
I could not make money from the film and the interest on the loan kept mounting. I could not repay the loan within the period stipulated in the agreement. As I was trying to rescue the situation, J.M.J died and his children came to me to ask if their father's house could be recovered from National Bank. I promised that I would recover them. Eventually, my lawyer advised me to sell my house in Mushin, Lagos. I did and the money was enough to pay my debt in the bank and the interest. Because there was no house for me to live in Lagos, I had to relocate to Ibadan. One day, I was on the plane and I met Chief Olusegun Obasanjo who gave me M.O.N award when he was the military head of state and Aare Musulumi of Yorubaland, Alhaji Arisekola Alao. I met the two of them and I told Arisekola that he is the Aare of Musulumi, while Obasanjo is Aare of Nigeria and I am Aare Agbaye. I asked the two Aares to help the third Aare, that is me. They both gave me their cards and asked that I see them. Later, I went to see Aare Obasanjo in his farm at Ota and explained my ordeal to him. He asked me if there was a place that I could use as a cinema in Ibadan and I told him there was. He then wrote at the back of his card and gave it to me to give the then Military Administrator of Oyo State, the late General Abdulkareem Adisa, for assistance. I did as he instructed and Adisa obliged. He rehabilitated one of the halls in Agbowo Shopping Complex for me to use as a cinema hall. He then asked me how much I could pay yearly and I told him N40,000. Adisa said I should be paying N30,000 yearly. But the local government in charge played a fast one on me. They said that I had to enter into an agreement for a review of the terms at which the hall was given to me. I did without smelling any danger. After three years, during the time of Lam Adesina, they increased my yearly rent to N200, 000. I was managing to pay it because I did not want to leave the business. Then Senator Rashidi Ladoja came in as governor. He did not like me at all. He increased the fee to N400,000. I begged him to reduce it because I could not afford it, but he refused. So, I packed all my belongings and left the hall. Because there was nothing for me to do in Ibadan, I relocated to Ilesa and since then, I have been living in this house.
Is there anything you wished you had achieved?
I wish I could make a film for people to watch at home; a film that can make people laugh. But I don't have money for such. It is painful.
Are marketers coming to buy your works?
Yes. They have been paying pittance, but I collect it so I can feed myself.
I was told you were one of the privileged few, who had telephone in the house. When did you get your first telephone?
My first telephone was a gift from Awolowo. There was a time I went to Lagos and I saw Awolowo and he asked me if I had telephone. I told him that I did not have. He then said that it was bad that I did not have a telephone. He then bought a telephone for me and asked the NITEL people to go and instal it in my house. That ensured that the two of us spoke any time we wanted.
The last time I was here, you were very sick and that was why you could not grant me an interview. How is your health now?
I am better.
But you look frail?
Well, old age has caught up with me. I am now an old man.
When last did you visit the hospital?
I go regularly for check-ups.
What is the nature of the illness?
The illness is age-related. That is why doctors always advise me to eat very well and rest well. But I am fine.
How old are you now?
I am seventy five.
What was your happiest moment?
The day Obasanjo gave me a national award, MON. I never thought of it. I never knew that the government was watching my performances.
What about your saddest moment?
When I lost my wife, Folake Mary, who was the matron of our group. She was my fifth wife.
How many wives do you have?
Eighteen.
How many children?
About fifty.
How did you start acting?
It is natural and I started very young.
How many albums did you record?
Thirty.
Do your children act?
I have about six that have taken after me. Oyindamola is a gospel singer.
What are your regrets?
I regret abandoning my musical band. If I had not done so, I would have still maintained my voice and be able to play for Sunny Ade at the funeral of his mother. That would have been my contribution to the funeral and to honour Sunny Ade.
Why did you abandon your musical band?
Drama was in my blood. I was a drummer. Sunny Ade likes playing guitar. I taught him how to play guitar and he is very good at it. I am proud of him. Sunny Ade's ambition was to play drums. He said that it was not in him to act. I felt that I should concentrate on acting and leave Sunny Ade to drumming and playing guitar. That was why I gave him my drum and musical instruments.
Would you advise people to marry more than one wife?
I cannot, but that doesn't mean that anybody who wants to marry more than one wife should not do so. I married many women because I was into acting and I needed them to help me in acting.
What is your advice to actors?
First to children and youths. They should obey their parents. No one should go to herbalists. Actors should be hard-working, creative and original in their works. Marketers should be sincere and honest with actors.
—Gbenro Adesina, Ibadan
Load more