Former Managing Director of Intercontinental Bank Plc, Mr Erastus Akingbola alongside an associate, Mr Bayo Dada was today arraigned before an Ikeja High Court in Lagos on fresh theft charges.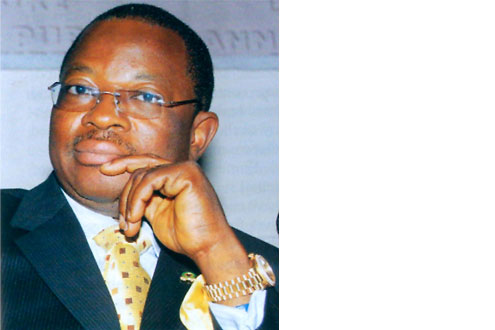 The presiding judge, Justice Habeeb Abiru also ordered them to be remanded in Kirikiri Maximum Security Prisons till the next adjourned date.
Akingbola and Dada, General Manager of Tropics Securities Limited, were re-arrested on May 3 by the Economic and Financial Crimes Commission (EFCC) and have since been under its custody.
EFCC's earlier plan to arraign them was thwarted on three occasions by series of applications filed by their lawyer, Chief Felix Fagbohungbe (SAN).
Fagbohungbe had asked the court to decline jurisdiction to entertain the case and had also asked it to restrain the EFCC from arraigning the accused persons in respect of the fresh charges.
However, at today's proceedings, Abiru while striking out the applications filed by the defence held that the court had jurisdiction to entertain the case.
Abiru said the EFCC law was passed by the National Assembly and therefore supercedes any state law, adding that the EFCC was competent to file any matter before a Lagos Court.
The judge also held that the charges being faced by the accused persons at the Federal High Court were not similar to the ones before him and therefore ordered them to be arraigned.
The court struck out seven of the 29-count charge of conspiracy to commit felony and stealing initially brought against the accused persons on the orders of the EFCC.
Mr Godwin Obla, EFCC prosecutor had prayed the court to strike out the said counts as they were specifically to be answered by Akingbola's wife, Anthonia who is said to be at large.
The EFCC in the amended 22-count charge alleged that Akingbola while being the Chief Executive Officer of Intercontinental Bank conspired with his wife and Dada to steal over N47.1 billion from the bank.
The commission in the charge sheet which was read to the two accused persons alleged that they committed the offences between March and May 2009.
They were alleged to have converted over N47.1 billion belonging to the bank to their personal use under false pretence.
The accused persons were alleged to have fraudulently converted some of the stolen money into loans to Tropics Securities Limited and Tropics.
By Henry Ojelu