The star newscaster at Television Continental, TVC, Mrs. Adebukola Ore, was two months pregnant when she passed away last Thursday, her husband, Akinwale Lawrence Ore, has disclosed. She was 29.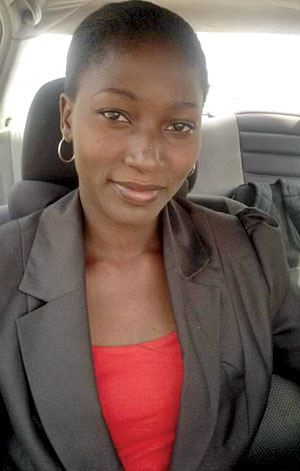 She passed on at 12.15 pm at Hamkad Hospital at Abule-Egba, a suburb of Lagos State, South West Nigeria, the husband said. She is survived by a five-year old son, Master Joshua Moyo.
After feeling some discomfort in her abdomen on Monday last week, she went to a private hospital at Abule Egba, she was admitted and given two drips, he said.
She returned home on Tuesday but reported to the hospital again as the pains persisted. She was referred to Ifako Ijaiye General Hospital but was not admitted due to lack of space.
She was then taken to Hamkad Hospital and given other drips and she died on Thursday.
"A thing of joy turned to sorrow," the husband said.
"We have been expecting a second child for several years and when she became pregnant we were elated, but it all turned sour," he said while receiving post graduate students of the Nigerian Institute of Journalism where Adebukola was studying broadcast journalism.
He added: "I bless God for bringing her into my life and seeing her maker face to face. I believe she's rubbing her fingers on the lion's mane like she said to me while here.
"On  behalf of the family, I want to extend my profound gratitude to everyone for the words of encouragement, support and show of affection during this moment of bereavement and trial.Thank you all."
Friends of the deceased have expressed shock over her sudden death on Facebook.
"You will be missed but I know that God knows best," Motunrayo Popoola Onibon-oje said.
"I am still in shock over the news of your demise. May your gentle soul rest in peace," Biodun Adesapo said.
Deronke Ayilara said : "I am still so speechless. I am not sure I have met anyone so warm and lovely. The business desk has lost another."
Adebukola Esther Adewumi was born on 29 July 1981 in Kwara State, North Central Nigeria. She was the first of the four children her parents had. She attended Our Lady's Nursery and Primary School, Kulende Estate, Ilorin. She then studied computer science at University of Ilorin before moving to the Nigerian Institute of Journalism last year for a Postgraduate course in broadcast journalism. She got married to Lawrence Ore on 25 February 2005 and became known as Adebukola Ore.
She joined TVC some years ago and had been on the business desk. She was also a newscaster. During the last general elections, she was assigned to Ilorin. She was a member of The Apostolic Church Onipinla Assembly, Alakuko, Lagos.
Her two favourite songs were 'As the deer panteth for the water' and 'When I get where I am going' by Brad Paisley.
—Simon Ateba